Aberration / Pollination: recent works by Carmen Gonzalez, Francesca Sundsten, and Hollis Brown Thornton.
Opening reception: Friday, June 4
Exhibition runs through Saturday, July 24, 2004, 6:00 – 9:00 pm, 2004
Linda Warren Gallery is pleased to present Aberration / Pollination, an exhibition featuring recent works by Carmen Gonzalez, Francesca Sundsten, and Hollis Brown Thornton. Aberration / Pollination features works that address the relationship between the natural and the unnatural, the scientific and the magical, and the role of the individual in a bustling and sometimes overwhelming world.
Carmen Gonzalez's sculptures and paintings address the role of the female in a society that is fundamentally oriented around seeing and being seen. Her paintings incorporate conflated imagery of waves, eyeballs, fish scales, and legs into brightly colored magical tableaux that encompass intense self-awareness, fear, and a sense of personal displacement. In these environments, figures are constantly wandering, falling through space, or enmeshed in their surroundings. In addition to several paintings, the exhibition will feature a number of Gonzalez's wooden sculptures encased in metal and glass containers, which relate to both scientific specimens and religious reliquaries. These 'specimens' represent the relationship between the self and the world as a process of constant scrutiny that resists personal security.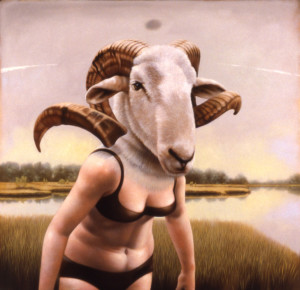 Francesca Sundsten's paintings and drawings of human/animal hybrid figures, twins, and insects represent a mysterious conjunction of possible long-pasts and futures. The meticulously rendered detail in her portraits lends psychological depth to her unconventional subjects, which seem to be looking out of the image and asking questions of the viewer, each as puzzled as the other by their own strangeness. The vast landscapes that comprise the backgrounds in a number of her paintings suggest a land beyond time, but her work also addresses current debates around the issues of biotechnology, cloning and hybridity. Her juxtapositions of unlikely creature combinations in mutant bodies suggest a post-apocalyptic, surreal world that is mythical, nostalgic, and unsettling.
Hollis Brown Thornton's paintings embody an ever-changing analytical practice that draws imagery from scientific and biblical sources in an attempt at understanding the interrelated natural and man-made environment. His works refer to the dependencies between organisms in fragile ecosystems that are subject to constant pressures. "The erosion and disintegration of material substance" becomes part of an ongoing process wherein knowledge and understanding become metaphors for the transcendence of death. In many of his paintings, a process consisting of photocopy transfers of landscapes and whale skeletons applied onto painted groupings of flowers mirrors the layered nature of both the earth's surface and the complex processes by which humans accumulate knowledge.
Carmen Gonzalez was born in Salamanca, Spain, and has shown in galleries in Spain and Portugal. She is currently working on a project entitled "Time Exposure" at the Center for Interdisciplinary Research in the Arts at Northwestern University. This exhibition marks the U.S. debut of her work. Francesca Sundsten was born in Hemet, California and lives in Seattle, Washington. Her work has been shown extensively in galleries on the West coast. Hollis Brown Thornton was born and raised in Aiken, South Carolina. He is a graduate of the University of South Carolina, and currently resides in Chicago. His work was recently featured in a solo exhibition at Jackson Gallery in Aiken, SC, entitled "The Great Fish & Every Kind of Plant That Bears Seed."