Gallery Y: Alex O'Neal: Delta Donuts, Migraine Weather
Gallery X: Nicole Gordon: Asylum
Opening Reception: Friday, February 3, 2012 from 6-9 pm
Show Runs Friday, February 3 – March 10, 2012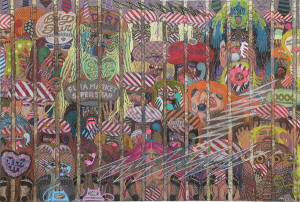 Linda Warren Projects is proud to announce the opening of Alex O'Neal's third solo exhibition with the gallery, "Delta Donuts, Migraine Weather" in Gallery Y, in which, as the title suggests, two prominent formal aspects of imagery have emerged in his latest body of work: migraine auras and donuts. And Nicole Gordon's second solo exhibition at the gallery,"Asylum", in Gallery X, further exemplifies her practice of extending the two-dimensional realm of her paintings into installations, creating sculpture and objects from elements within her pictorial plane and providing the viewer another way to experience her strange and surrealistic vision. Axiomatic to both artists are their creation of highly distinct, visually loaded and idiosyncratic subject matter. This includes constructs that are a kind of private personal theater full of enigmatic characters, narratives, set design and costumes that mesh their individual life experiences and stories with the art historical influences they are both drawn to and compelled by.
Since 2009, O'Neal's last show at the gallery, he has spent many months living and working on his art in Catalunya, Spain, Provence, France (in both places for artist residencies as well as in the latter, an important, pivotal exhibition at the Penitents Noir's art space in Aubagne), New York (where he lives and works in Brooklyn) and Mississippi (where he was born and raised and maintains a cabin/studio on forested, hilly land that has been in his family since the 1830's). Each of these locations infiltrates the work and has a role in the formation of his visual iconography.
"Mean Hippies" (the eccentric, fashion conscious, self-camouflaging, militant hillbillies, anarchists, homegrown terrorist folks who come off at times as androgynous, glam-rock Para humans) continue to take center stage featured in three large-scale paintings and numerous drawings, both in oil pastel and graphite. This wild community of "quasi-everyone in the universe combined into one" – are normally quite riotous and rowdy, a rabblerousing group disharmoniously interacting with their environments and the natural world. This casts a strong reference and contrast to Edward Hick's series of paintings – "Peaceable Kingdom". In much of O'Neal's prior work, "Mean Hippies"were often seen intermixed with wild animals, holding shotguns, bullet ridden stop signs, tossing arrows, beating drums, with mouths wide open, shouting, but saying nothing, except the occasional odd phrases, like the "art world is not your friend', or "hi, I'm cinnamon coke, wanna try me?" In most of the current pieces, the characters are more subdued, clutching and licking donuts and telephones, heart-shapes, floral wreaths and pinecones instead of grenades, weapons and military badges. Tears/raindrops seem to replace screaming as emotional release while neckties become more prominent than wigs. The psychedelic razzle-dazzle of color is counterbalanced with the colorless draftsmanship of pencil drawing.
O'Neal's epic saga, at the core of which resonates a parable of family dysfunction and secrecy, is now definitively placed in the fictitious "Delta City" – an invented locale personally connecting the work to O'Neal's Mississippi roots. O'Neal states that this isolated arena "gives greater opportunity for local superstars and homegrown fashion to flourish… a kind of a dumping ground – for lack of a better term- for high and low styles and a reference to self-taught aesthetics." Now, though many of the rebels are seen behind bars, locked inside the "Delta City Jail", the undercurrent of disharmony, imbalance and superstition persist as they obsessively lick the old-fashioned telephones and peppermint striped donuts, and decorate their jail cells with ribbons and wreaths. All suggesting as O'Neal says "low tech pleasures" of yesteryear and "chronic American behavior".
O'Neal's recent revelation that the aural patterns he personally experiences are from the suffering of migraine headaches. Much of the overt depictions of "migraine weather" in the new work have, in reality, long been a part of his visual vocabulary. Cosmic star bursts and lightening bolts (which still appear in the current work) are seen in his earlier work but are now central aspects at the forefront of the unfolding drama, rendered and placed with a consciousness of their inspiration and influence. Herringbone hatches, zigzag patterns and lightening bolts hover and float above a drawing or painting surface and "imitate geometric, iridescent qualities of visual auras. A kind of migraine weather, they are eye dazzlers that do not explain anything – this isn't migraine art per se – but function as an idiosyncratic comment on the quality of vision."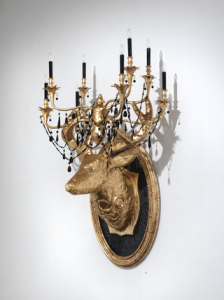 Similar in many ways to O'Neal's universe, Nicole Gordon's "Asylum" illustrates how a single environment can be simultaneously both a loony bin and also a treasured sanctuary and safe house. Inspired by Gordon's interest in Flemish tapestry and Persian miniatures, are two large paintings depicting an interior of a medieval cathedral coupled with aspects of a hunting lodge and child's playroom. Angels hug teddy bears; gold-gilded frames hang on rustic wood-paneled walls containing murals depicting scenes in which North American totems replace ornate Roman columns. Battalions of "bat and wobble penguins" appear both playful and aggressive all at once. Mounted deer heads in the paintings become chandeliers and mirrors in her installation. The play toys scattered haphazardly on decedent marble flooring reappear three dimensionally in her exhibit. Gordon's genre-style painting, turned now onto herself in her everyday life, merge the iconography of her artistic practice with a loving though crazy funhouse. Gordon's recent change of life of becoming a mother to now two-year-old twins, serves well to dominate her imagination and inspire works that express the benefits and pitfalls of her life experiences – both as an artist and full-time mom.
Alex O'Neal received his BFA from Rhode Island School of Design in 1979 and his MFA from the Art Institute of Chicago in 1985. He has been the recipient of many fellowships and awards, including a 2011 New York Foundation for the Arts Fellowship recipient in the category of Printmaking / Drawing / Book Arts, Guggenheim Foundation in 1999, New York Foundation for the Arts in 2001, and National Endowment for the Arts 1987-1988. His work has been exhibited in museums and galleries nationwide, as well as in Spain and France and can be found in many outstanding public and private collections. He currently lives and works in Brooklyn. Nicole Gordon received her BFA from the University of Michigan in 1998. She has exhibited in venues throughout the United States, including recent exhibitions at the Chicago Cultural Center, the Elmhurst Museum and the Kohler Art Center. She currently lives and works in Chicago.