Alex O'Neal "Recent Work"
Project Space: Sandra Perlow
June 26th – August 15th, 2009
Artist Reception: Friday, June 26th, 6-9 pm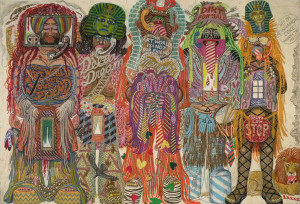 Alex O'Neal's second solo exhibition at Linda Warren Gallery takes off where his last one ended – presenting in both highly involved paintings and elaborate oil pastel drawings a world full of eccentric, dynamic characters competing, even screaming, for attention. Though their origins emanate from prior work – and the artist's upbringing in the Mississippi Delta –  they have developed a definitive, unabashed dress code of  glam rock/punk rock/drag – accompanied by all the paraphernalia needed to make such a loud and dramatic fashion statement. Working in the vein of Southern Gothic, O'Neal puts ostracized individuals, superstars, and superheroes center stage in his narratives to address a cacophony of ideas surrounding disguise, dysfunction, secrecy, anarchy, community, religious fervor, power, struggle, nature, "homegrown terrorism", hope, passion and inspiration.  O'Neal believes that the newest work "speaks more personally and specifically, referring more to the dysfunctional family unit" saying he, "in a way, is Pop-Artizing a small dysfunctional community, that…has its resident anarchists and terrorists, veiled in disguises…ready to drop their trademark bombs at family gatherings".
The artist's continuing life experiences and fascinations, incorporating lands far and wide and ideas both universal as well as particular, add new forms to the work and feed these characters' evolution.  These forms lend harmony and, at times, humor to otherwise intense and dense "unpeacable kingdoms" of man and animal.  Newly-featured symbolic forms in his visual language include the neck tie, the lightening bolt, platform boots, King Tut masks, frosted heart-shaped cookies, cotton, old-fashioned telephone receivers and the recurrent phrase, "The Art World is Not Your Friend"; these newer items interplay with older ones –  the peppermint shoestring, the bullet-ridden stop signs, the tiger paw, military badges, an array of wild animals (tigers, lions, eagles, snakes, raccoons and more) and the all-embracing wigs, long hair and crazy hairstyles.  His central figures– the ever-morphing mean hippie/anarchist/ homegrown terrorist/drag queen/punk rocker/ hermaphrodite /Southerner – interact with these forces, gaining life and fresh narrative from their existence.
Artist Residency programs continue to play a big part in the development of O'Neal's visual language, as he has enjoyed over a dozen of such experiences throughout the United States and Europe in the past 15 years. The landscapes of these locales along with his lifetime passion for collecting outsider art, folk art, indigenous art, and Art Brut, inform his own work.  His most recent pieces were just completed while doing a residency this past winter and spring through the Camargo Foundation in Cassis, France. His side trips to Heidelberg, Lausanne, Bern and Barcelona had an unusually immediate influence in O'Neal's work, especially in terms of candy imagery that he applies as a kind of "sweet talk".
Alex O'Neal received his BFA from Rhode Island School of Design in 1979 and his MFA from the Art Institute of Chicago in 1985. He has been the recipient of many fellowships and awards, including from the Guggenheim Foundation in 1999, New York Foundation for the Arts in 2001, and National Endowment for the Arts 1987-1988. His work has been exhibited in museums and galleries both here and abroad, and can be found in many prestigious private collections around the globe. He currently lives and works in Brooklyn.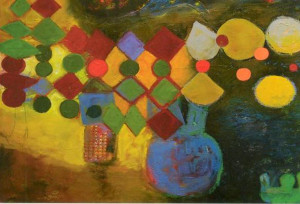 In the Project Space, be sure to see prominent Chicago painter Sandra Perlow's richly-surfaced paintings and drawings, utilizing, like O'Neal, a great deal of collage and patterning.  These paintings and drawings are recent developments of the artist's prolific and versatile exploration of chromatic abstractions.  Biomorphic forms converse among colorful and textural fields.  Having received both her B.A. and her M.F.A. from The School of the Art Institute of Chicago, Perlow continuously draws on the syncopated tempo of her Loop surroundings, as well as such far-reaching locales as Mexico and Angkor Wat.