Alex O'Neal- Lick the Sun
March 2nd – March 30th, 2007
Opening Reception Friday, March 2nd: 6-9pm
We are proud to announce the opening of Alex O'Neal's first solo exhibition in the gallery, "Lick the Sun," wherein will be featured his most current drawings and paintings alongside pieces completed within the last twelve years. This format intends to allow the viewer a broader insight and understanding into the complex and distinctive narratives of O'Neal's visual vocabulary as well as the evolution and cohesiveness of his artistic style. Themes of anarchy, community, religious fervor, power, struggle, nature, disguise, dysfunction, secrecy, "mean hippies," homegrown terrorism, hope, passion and inspiration appear throughout his oeuvre and are just a few of the subject matters which O'Neal conjures and relates to his own unique experience of growing up in Mississippi and later sampling a broad contemporary American scene.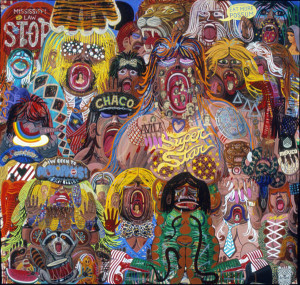 Characters (the mean hippie, the glam-rock queen/king, the super-sized women), talisman (the peppermint shoelace or a folk hero's glove) animals (tigers, lions, raccoons, bats) symbols (the stars, the badges, and stop signs) are metaphoric and creative tools that could vacillate from flower power to flower grenade in any particular work.
This range with which O'Neal's idiosyncratic iconography stretches to embody different meanings and associations is evident too from the artwork created during many art colony residencies in the US and Europe. For instance in his most recent and second excursion to Farrera, a Catalan Village north of Barcelona that supports an artists program, the dramatic weather systems of the region (El Temps) are personified by large breasted bellied woman characters- some wearing beards- while other long haired, hippie figures become the storm, the fog, and the Pyrenees landscape.
"Lick the Sun" addresses a human condition craving for the powers invested in the natural world. Perhaps this is a notion O'Neal addresses with irony, or perhaps not, believing that this connection is merely a craving or excuse for something evasive. In either case, what is on display is a world created in order to explore these ideas.
Alex O'Neal received his BFA from Rhode Island School of Design in 1979 and his MFA from the Art Institute of Chicago in 1985. He has been the recipient of many fellowships and awards, including from the Guggenheim Foundation in 1999, New York Foundation for the Arts in 2001, and National Endowment for the Arts 1987-1988. His work has been exhibited in museums and galleries nationwide, as well as in Spain. He currently lives and works in Brooklyn.