Amy Bennett: Stories
April 8–May 28, 2005
Reception for the artist: Friday April 8, 6-9pm
Linda Warren Gallery is proud to present the first solo exhibition of a talented, young emerging artist: Amy Bennett. For the past few years, Bennett has been painting meticulously carried out, multidimensional depictions of domestic environments. Included in the cross-sectioned aerial views of apartments and bisected looks at large family homes are the moments and dramas of their fictional inhabitants. Stories features this previous work alongside her most recent endeavors: paintings of a single family living in a remote countryside home, each work derived from a 1:12 scale model home that Bennett skillfully built. Private and particular, these narratives represent every day life occurrences while simultaneously awakening the viewers' own free associations to similar personal stories.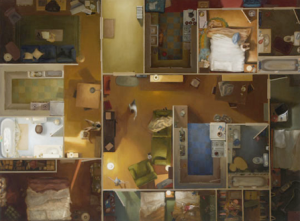 As artist Peter Drake states in the accompanying exhibition catalogue, "Entering one of Amy Bennett's paintings is like walking into a home where you know that something has gone subtly wrong." Indeed, initially one delights in the isolated luminous landscapes, the thorough attention given to each room's décor, the interesting combinations of varying, yet consistent, perspectives. And, because these are paintings presented for you to look at, you feel comfortable taking all the time in the world absorbing every aspect (as opposed to feeling impolite investigating someone's actual home). It is upon such close inspection that you notice, as Drake states, "Anxiety is in the details." A young girl stands forlorn in a front doorway, while upstairs a man rifles through dresser drawers. The dirty pots and plates from the last eaten meal are strewn about the kitchen, with no one in sight to tidy up. A woman sits staring out the window as if hypnotized, while two figures watch the television behind her. Bennett's domestic paintings depict more setting than actual action, emphasizing the figures' existence in space and, consequently, the significant void existing between them. You are invited to enter these "generous" paintings, to, as Drake writes, "take the good with the bad… to remember your own past and to look more closely at the present. You are asked to find yourself in the memories and imaginings of a truly gifted artist."
Linda Warren Gallery thanks the many private collectors who loaned works in order to complete this comprehensive exhibition of Bennett's work. Born in Maine, Bennett obtained her BFA from the University of Hartford, Connecticut in 1999, and was awarded a MFA from New York Academy of Art in 2002. She has participated in select group exhibitions and been the recipient of several awards and grants. She currently lives and works in New York.