Between Realism & Metaphor: Mark Mennin, Tom Van Eynde and Hamid Zavareei
November 19, 2004–January 8, 2005
Opening Reception November 19, 6–9pm
Linda Warren Gallery proudly introduces Between Realism & Metaphor featuring sculpture by Mark Mennin, photography by Tom Van Eynde and paintings by Hamid Zavareei. Between Realism & Metaphor connects thematically and spatially work that expresses an inclination to represent the world around us accurately, while simultaneously allowing for transcendence, meditation, poetry and imagination. This work will be best understood and felt from the spiritual I (eye). By presenting these three artists together, Linda Warren Gallery attempts to create a peaceful, meditative environment and inspire subjective and reflective experiences for the viewer. Hopefully a dual process will occur, one of objective detachment and personal attachment as meanings begot from distant places and far away times will place one squarely in the moment of today.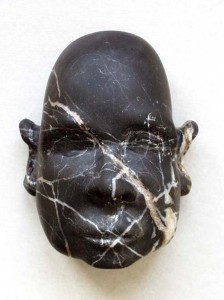 Mark Mennin's realistic figurative sculptures, with their smooth, graceful contours and youthful empathetic expressions favor literal truth. The use of marble makes an implicit, and maybe immediate, comparison between the sculptures of antiquity and contemporary sculptural practice, as well as between the real and the idealized. Unlike classical statuary ruins (which Mennin spent time copying in Carrera, Italy), Mennin's work is created as fragments, thus emphasizing the tension between presence and absence, and between the beauty of the material and the works' content. Each Manchild sculpture bears new life, a new creation not akin to anyone from life, but rather a life onto its own–with all the beauty, perfection and imperfection embodied in each of us.

Following in the tradition of nineteenth century photographic survey expeditions, Tom Van Eynde photographs megalithic monuments worldwide, re-exploring and re-presenting the relationship between the stones and the surrounding landscape. This relationship, Van Eynde explains, is critical to understanding the sanctity and mystery such sites have held throughout history. Toned to give the appearance of albumen prints, Van Eynde's panoramic works are actually giclées: digital high-resolution, high-fidelity reproductions of existing photographs printed on a special large format printer. Consequently, while the works function in a traditional documentary mode, they are distinctly contemporary: "My photographs are, in a way, a game I play between myself and the viewer. The images bounce our remembrance between the past and the present."
Hamid Zavareei's figurative and abstract paintings evoke a sense of both the spiritual and humanistic. Often the abstract and the figurative are combined into one canvas, seemingly reinstating his "desire for a union in the context of duality, a response to the calling of [his] soul and venturing a glimpse into the lesser known areas of [his] psyche." Appearing in his figurative works are symbols and metaphors of religious practice, spiritual salvation, hope and redemption. Like Mennin and Van Eynde, Zavareei is influenced by historic artistic trends; Renaissance influenced figures and places, like the "Libyan sibyl" of Michelangelo's Sistine Chapel, make their way into his canvases. Often his paintings can be better classified as constructions: Zavareei insets oils on wood or canvas into larger copper or steel assemblages, resulting in sublime multimedia creations.
Mennin has exhibited extensively in the United States and abroad including New York, San Francisco, Munich and Paris and his work is incorporated into several public and private collections. He currently serves as adjunct faculty at New York Academy Graduate School of Figurative Art where he has been since 2000. Van Eynde's commercial photography skills are well known and appreciated by artists, galleries and museums in Chicago. His photographs have been recently exhibited at the Oriental Institute, University of Chicago and the Chicago Cultural Center. Zavareei, who currently lives in Seattle, has shown extensively throughout the United States' west coast, as well as abroad in Korea and India. Between Realism & Metaphor marks the first showing of his work in Chicago. He presently teaches at Seattle Academy of Fine Art.