Brenda Moore: The Horse in the Bedroom
October 20th – November 25th, 2006
Linda Warren Gallery is pleased to announce the opening of Brenda Moore's first solo exhibition at the gallery "The Horse in the Bedroom." Utilizing an array of media including painting, drawing, encaustic, embroidery, found objects and installation, Moore indulges in a subject matter that has, since the age of five, been her obsession: the horse. An intensive, all encompassing childhood fantasy of owning a horse and even becoming a horse, so defined the artist's imagination that it became the mechanism by which she not only learned to draw but the primary symbol she embodied to anthropomorphize her emotional universe.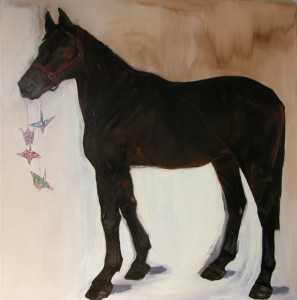 Taken as a whole, this new body of work operates much as a metaphor for psychoanalysis: a regression to a time when the artist felt more mentally grounded and an instrument to better manage and understand the present. Throughout her career animals have always figured strongly in her work and in a variety of contexts. Their silent language has served again and again as a voice for a multitude of emotions and ideas, be it suffering, compassion, fear, escape, destruction, abuse, exploitation, comfort, love, ugliness and beauty. The range of Moore's kinship with her subjects is endless.
In this current and very personal oeuvre one also discovers many references to her husband's recent, tragic bicycle accident that occurred during the making of this show. Depicted through much of the imagery and not surprisingly in the shows largest paintings "Neither Horse nor Rider was Injured" and "Superman" is both the cataclysmic crash of their world and their ultimate revival. On saddles and riding hats throughout the gallery Moore has branded text from various literary sources that allude to the theme of a blurred and fused identity between person and horse. Emblazed on one saddle entitled "Equiantropy" is her faults are nervousness, laziness, and excitability that is at times unpredictable on another go back once more to when they are little girls to when they use all their powers of mind and musculature to become horses themselves.
Figuring prominently within the gallery is the installation entitled "The Horse in the Bedroom" representing the seed from which her obsession sprung as well as the notion of how inextricable the past is from the present. The bedroom is loaded with real fetish objects from the Breyers horses she attempted to draw as a child yet were technically and severely ridiculed by an austere grandmother (and first art crit), to her childhood rocking chair that she defaced as a kid by converting it into a pseudo-rocking horse, and to childhood books that underpin some of the basis of her imagery. Within the bedroom there to is an array of never-exhibited recent artwork that includes delicate Victorian dickeys embroidered with human hair and Weasel imagery, fairy tale encaustics such as "The Princess and the Pea," and a patchwork quilt created in graduate school that marks her return to the sewing media. Moore's other grandmother taught her stitchery as a little girl and now the medium is here expressed more completely in a contemporary context.
Brenda Moore received her MFA from American University in 2001. She has exhibited throughout the United States and has appeared in several group shows at the gallery. She currently resides in Chicago where she is a beloved and inspirational teacher for her students at The Chicago Academy for the Arts.