Carson Fox
"Inflorescence"
Project Space: Janet Bloch
April 4th – May 10th, 2008
Opening reception Friday, April 4th, 6-9 pm
Linda Warren Gallery is proud to present Carson Fox's first solo exhibition at the gallery, "Inflorescence." Sprung from Fox's fertile imagination dizzyingly beautiful, blatantly artificial, fantastically strange flowers burst off the gallery walls defying death in their unwithering glory. Created for eternal existence in the artist's studio, rather than the scientist's laboratory, Fox's enrapturing gardens of unearthly delight and fervent excess provoke an uneasy pleasure.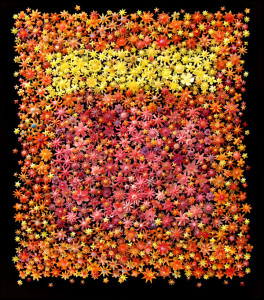 In the course of her career, Fox's interest has been in sources and themes that have been left out of the history of art, feeling a particular kinship with marginalized "craft" materials – be it glitter, silk flowers, artificial birds, and butterflies, to the popular illustrations and folk art of the Victorian era. Fox's unabashed engagement in labor-intensive toiling, in a world teeming with feminine imagery and material, pushes her decorative forms to the brink of hysteria. Yet within the extremes of her deeply personal vision, Fox also demonstrates an unfaltering ability to control and convey multiple layers of complexity, duality, and meaning in her works.
Most recently, Fox furthers a dialogue with some of the great abstract and Op Art artists of our time. By limiting her burgeoning efflorescence's color palette, as in "Black Garden for Malevich," and the form and chromatic interactions in "Rothko for Mother" Fox plays with our perceptions and conceptions of abstraction and representation, minimalism and maximalism, 2-D and 3-D art forms, obscuring the lines between them while blending them into something singularly her own.
In meticulous perforations of highly wrought digital prints, Fox transforms the paper into "lacy maps suggesting invisible routes made visible, a tangible history of [her] own industry," by hand-punching thousands of holes into the imagery. The eerie and unnerving histrionics conveyed by such an obsessive task derails their seductive beauty, while a cornucopia of conflicting notions are invoked including creation and destruction, life and death, order and chaos, overindulgence and restraint.
Carson Fox received her MFA from Rutgers University in 1999 and a BFA from the University of Pennsylvania in 1996. She has exhibited extensively both here and abroad, and her work is included in many prestigious private and museum collections, including The Museum of Arts and Design, The Royal Museum of Belgium, the Novosibirsk State Art Museum, The Noyes Museum of Art, the Jersey City Museum, the Jane Voorhees Zimmerli Museum, the New Jersey State Museum and the Pennsylvania Academy of the Fine Arts Museum among others.  She has been the recipient of many grants and awards including a Barbara Deming Grant, a New Jersey Council on the Arts Grant for Sculpture, and a Brodsky Center Fellowship. Fox lives and works in Brooklyn, New York.

Check out more atypical beauty in the Project Space where Janet Bloch will present her recent paintings, which convey the play of energy generated between the industrial and natural elements of the landscape.