Carson Fox: Cold Comfort
May 14th – June 19th, 2010
Opening Reception with the artist – Friday May 14th
Project Space: Rosalyn Schwartz – Mélange à Trois
In Cold Comfort, her second solo show with Linda Warren Gallery, artist Carson Fox continues her meditation upon themes of an alternate nature, one that is created in the mind as a reassurance against the inevitability of death. Fox's aspiration for a "controllable nature" provides a variety of cold comfort that may not be real, but acts as a manageable substitute for things that typically elude our grasp.
One 13 x 17 installation is comprised entirely of over 120 suspended clear, cast resin icicles whose impossibly sharp tips dangle precariously above the viewer's head. The work deftly mixes retinal delight with a sense of dread. The icicle image was taken from a vivid dream the artist had about her deceased mother. Icicles covered everything in the dream landscape, and as her mother spoke, the icicles melted, indicating their time together was limited. By bringing a fixed, tangible form to the icicles, Fox has created an environment that may not be real, but is controllable. Here, death is denied.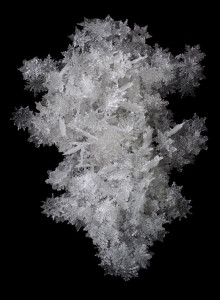 Another major body of work is comprised of faceted clouds of snowflakes. Each 3" snowflake is cast individually and then assembled into complex formations from 24″ x 30″ x 15″ to several feet across; some are free standing, while others sprawl across the wall.  The compositions suggest an exaggerated fantasy of nature where the viewer can behold the individual beauty of each flake in sharp focus and keep it there without fear of it melting and slipping away.
;Added into the cornucopia of the frozen and stilled life forms teeming in the gallery (which will include the more familiar aspect in Fox's oeuvre – the hand-molded resin flower installations created in a dazzling and sparkling silver color) is the squirrel. Presented life-size, and cast in multiples, the feral squirrel figurines represent for Fox a species that have been both a source of pleasure and pain. Empathizing in their ways of solitude and industrious survival, a Cinderella fantasy of befriending little creatures was attempted in Fox's adulthood as she fed and nurtured (incessantly studied and photographed) them on her urban balcony. Needless to say, the squirrels one day wreaked havoc on the artist's terrace, as she neglected to feed them one weekend while out of town.  Fox decided that the best means of controlling her hurt feelings, yet continue her childhood fantasy, would be to recreate them in her art.  The undercurrent of menace that this small army of sculptures might project relates to the tension between what Fox wishes the squirrels were and what really lies in their little hearts.
Carson Fox received her MFA from Mason Gross School of the Arts at Rutgers University and her BFA from University of Pennsylvania and the Pennsylvania Academy of the Fine Arts. Working across media, Fox produces prints, installation, and sculpture. Her work can be found in the permanent collections of The Museum of Arts and Design, The Royal Museum of Belgium, the Noyes Museum of Art, the Newark Public Library, the Jersey City Museum, the Morris Museum of Art, the Jane Voorhees Zimmerli Museum, the New Jersey State Museum, and the Pennsylvania Academy of the Fine Arts Museum. She has participated in solo and group exhibitions at the Boulder Museum of Contemporary Art, Boulder, Colorado, Claire Oliver Gallery, New York, O. K. Harris Gallery, New York, the National Museum of Wales, Cardiff, Wales, the Brunswiker Pavilion Kiel, Kiel, Germany, the Delaware Center for Contemporary Art, Wilmington, Delaware, and the Association Mouvment Art Contemporain, Chamalieres, France. Fox has received grants from the New Jersey Council on the Arts, the Barbara Deming Memorial Fund, and the Mid Atlantic Art Foundation, a Willem Emil Cresson Award, and a New Jersey Print and Paper Fellowship at the Rutgers Center for Innovative Print and Paper. Her teaching experience includes Harvard University, New York University, Rutgers University, and the Pennsylvania Academy of Fine Arts before joining the faculty at Adelphi University. Carson Fox has lectured widely on printmaking and sculpture across the United States and abroad. She lives and works in Brooklyn, New York.
In the Project Space this month we are thrilled to announce our first time presenting the work of artist Rosalyn Schwartz.  As a child of an interior decorator, Schwartz was raised in lush surroundings in an atmosphere of abundance and ornately shaped chandeliers, candelabras, rococo-styled sconces, Viennese art-nouveau statuettes, tassels and fabrics of all shapes and colors and more.  This environment, full of beauty, excess and decadence has had significant impact on her work in both subject matter and content. By Schwartz's juxtaposition of diverse and disparate subject matter from a variety of resource materials, she produces compositions, using collage on paper and paintings on canvas to reveal an exciting body of work full of new interpretations.
Rosalyn Schwartz received her BFA in painting from Washington University, and her MFA in painting from Fontbonne College.  She is the recipient of numerous grants, fellowships, and awards, including an NEA Fellowship, a Bush Foundation grant, a McKnight Foundation grant, and a number of research grants from the University of Illinois Campus Research Board.  She has exhibited her work throughout the US and in Europe.  She will have a mid-career survey of her work in 2010, accompanied by a catalogue with an essay by noted critic/curator, Lilly Wei, at the University of Missouri in St. Louis. Schwartz has had numerous critical reviews written about her work in many journals and magazines including ART FORUM, ART IN AMERICA, and the New York Times.
In May of 2008, Schwartz took an early retirement from the School of Art and Design at the University of Illinois, Urbana-Champaign, where had been a Professor in Painting since 2002 in order to fully focus on her studio work and her upcoming exhibitions.  Prior to coming to Champaign in 1988, Schwartz taught painting at the University of Minnesota in Minneapolis, the Minneapolis College of Art and Design, and West Virginia University in Morgantown. She lives and works in Champaign, Illinois.