Conrad Freiburg: Slipping Glimpser
Friday, September 8th- October 14th, 2006
Opening Reception: September 8th 6-9pm
Linda Warren Gallery is delighted to open the fall season with Conrad Freiburg's solo exhibition "Slipping Glimpser" a grand scale, interactive, sculptural installation and contemporary interpretation of Chicago's Columbian Exposition of 1893 (a.k.a- the "World Fair"). The finely crafted, seemingly fragile rollercoaster-like structure (comprised of 160 feet of ash wood) is much more than a wonderful homage to one of Chicago's proudest historical moments.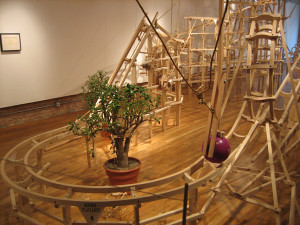 Using a lustrous, translucent bowling ball, which encases fragments of Freiburg's previously crushed sculpture from the "Ball Drop" event in March of 2006, the viewer becomes the machine's participant. Along the way it visits 12 varying segments and stops to what metaphorically represents the Expo's great and magnificent buildings and locales — i.e. the Manufacturers and Liberal Arts, Transportation, Government and Agriculture Buildings are all represented along the track as well as the newly invented Ferris Wheel and decedent Midway Plaisance. With the first crank, the ball slowly, clickety-clacks up the starting ramp, and figuratively speaking moves through the fairs' Administration Building, where the artist, in his imagination, pays tribute to the muses of the Glimpser's epic journey and tale. After passing through the "Women's Building," the highest physical point along the track, the ball slips into the "Agricultural" arena and the ultimate reward is ideally reaped; that is, of course, if the ball succeeds to crash down upon and smash to smithereens yet another delicate sculpture of Freiburg's making.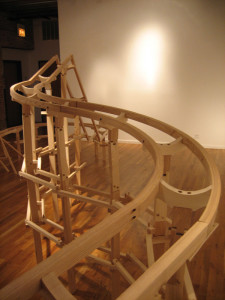 It is at this moment of demolition where the concrete manifestation of Freiburg's vision is complete, the abstract truth of his work is embodied, and de Kooning's famous phrase the "slipping glimpser" is immortalized. In his effort to pursue Daniel Burnham, the fair's chief orchestrater's call to "make no small plans, they have no passion to stir men's blood," Freiburg intends, with this project, to give others similar incentive. Resonating with the sublime, it operates as a mechanism by which the artist grapples with his own concept of art, the nature and meaning of passion, permanence, temporality, creation, destruction, wonderment, awe and most importantly, love. It is through this project, sponsored and honored by the New York Foundation for the Arts, that Freiburg parlays the language of his past sculptural creations into a magnificent structure whose implementation from inception to completion articulates the mystery of inspiration itself, the possibility that life and beauty can and do arise from death and destruction.
Conrad Freiburg received his BFA in 2000 from the School of the Art Institute of Chicago, where he currently resides. He has participated in several other group shows at the gallery as well as exhibited both nationally and internationally. This marks his first solo-exhibition. For further information or images (and by mid-September a CD of the making of this project) please contact the gallery.