Emmett Kerrigan "Cline Ave"
October 16th – November 28th, 2009
Opening Reception for the Artists: Friday October 16th 6-9pm
Project Space: Lora Fosberg – Front Porch Disasters And Other Open Secrets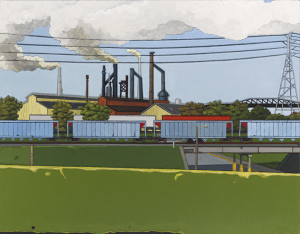 Linda Warren Gallery is pleased to present "Cline Ave," Emmett Kerrigan's second solo exhibition at the gallery. In this newest body of work, Kerrigan's career-long fascination with iconic subject matter leads us to the vistas and terrain surrounding the well-traveled drive along Cline Ave and Highway I-94. Probably no other thoroughfare in America better defines the industrial landscape of this country and particularly the Midwest, than this stretch of the heartland. Steel mills, oil refineries, and their by-products of steam, smoke and pollution loom over this region in every direction, perspective and angle, creating a multiple assault on the senses. Equally apart of this picture, amidst the cold, hovering omnipresent machinery stands the quiet, orderly neighborhoods of Whiting, Hammond, Gary and East Chicago- the communities that arose as the work force for these behemoth enterprises. As a life-long Chicagoan, Kerrigan's personal familiarity with and sensitivity to this region, along with his singular artistic style, produced a body of work that is directly and honestly Midwestern, mimicking, both literally and figuratively, the density of these complicated and multilayered images and our history. Eerily, though intentionally, devoid of human life form, the paintings remain focused on mankind's creations: the forms and structures that created this areas identity. Similarly, through Kerrigan's exhaustive application of numerous layers of paint – creating surfaces rich, sensuous and captivating – the materiality of his work is one of its most expressive and impressive elements. Each brush stroke and palette shift, dynamically ascertain a palpable physicality to each mark. Flat, quiet areas in the picture plane abut intensely detailed others which draw the viewer in for closer inspection. Kerrigan's painstaking approach to his paintings give pause to Cline Avenue's typical passing voyeur, honoring the hard labor of the many individuals who actualized and cultivated these colossal achievements, making the Midwest unapologetically and unabashedly strong, grounded and magnificent.
Notions of what constitutes ugliness and beauty, decay and vitality, relevance and irrelevance, accessibility and obstruction come into question as one looks at these works. Generally, and unlike Kerrigan's farmscape series, compositional elements have shifted so that the lower half of the canvas presents itself as an area of primary focus. One gets the sense of being welcomed with a generous and rough handshake: a memorable, though tense, first introduction. Cement walls, concrete barriers, crowded row houses, congested and obsessively worked rooftops, house siding and brick, direct ones vision downward toward the human element of these stories. As stated in the essay in Cline Ave's exhibition catalog written by Francesca Wilmott, "the true focus of Kerrigan's practice lies in the surface between the viewer and the painted structures. Though welcoming in their bright, graphic silhouettes, Kerrigan's landscapes are also marked by divisive boundaries. Freight trains, fences, and wide swathes of land divide viewers from the buildings, emphasizing the fact that they are not privy to these spaces. In the hands of Kerrigan, this midwestern landscape is depicted as what it is – a variegated, emotionally charged environment – both nostalgic and contemporary, significant and obsolete. Contemporary ideas are transformed into visual allegories – a transcendental realism a la Walt Whitmanesque – that both elevate the everyday man into heroic and epic scale while paying close attention to their on going struggle."
Emmett Kerrigan received his BFA from the Kansas City Art Institute in 1993. He also attended summer programs at Chautauqua School of Art and The School of the Art Institute of Chicago.He has shown his work extensively throughout the Chicago area and is preparing for a solo show at Elmhurst Art Museum in 2010. His work is in numerous prestigious corporate and private collections, including Wellington Management, Kirkland & Ellis, The Sandor Family Collection, amongst others.
Project Space: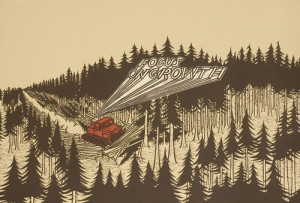 We are thrilled to have Lora Fosberg once again presenting new work in the Project Space. In her latest drawings, the objects and ideas she holds the most dear: her personal belongings, nature, the trees in the forest, cut down, chopped up and plowed down into logs, become formally arranged into magnificent, precarious piles, as if one suitcase out of place, or one log turned over would cause the whole thing to collapse in a second -like a game of pick-up sticks. Clearly, Fosberg's recent moves from a loft in Chicago to a cabin in Indiana as well as a home in Bloomington have made their way into her work. An organizing and structuring of emotional chaos and transition has emerged in these works that are both formally minimalistic and figuratively loaded. Lora Fosberg received her MFA from The School of the Art Institute of Chicago and her BFA from the University of Illinois, Champaign. Her work has been exhibited at the Museum of Contemporary Art of Chicago's 12 x 12, the Urban Institute for Contemporary Art (UICA) in Grand Rapids, Michigan and galleries throughout the country.