Emmett Kerrigan, Spin Off
Lora Fosberg: New Drawings
Friday, June 29th- August 18th, 2007
Linda Warren Gallery is proud to announce the opening of Emmett Kerrigan's first solo exhibition at the gallery – "Spin-off". Kerrigan's interest throughout his career has been to charge iconic objects embedded in our consciousness from childhood, youth and bygone eras with excitement, movement and meaning. Dynamic shapes that transcend the ordinary and are mechanisms of motion – tricycles, tractors, propellers and fans – have all figured prominently in past work. In this exhibit, Kerrigan delves into the shapes, forms and functionality of the age-old, universally played "top" – a toy that has provided fertile ground to fulfill a multitude of these fascinations. On display are vibrant bodies of work, which now include sculpture and assemblage, that travel conceptually throughout the gallery's terrain, similar to the movement of the "top" – seamlessly playing off one another with ease, freedom, logic and a joyous, colorful consistency.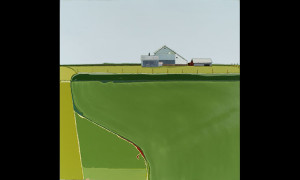 Kerrigan began this newest series by lathing and laminating found woods into the shape of the top. He then painted and varnished these organic shapes and materials into sensuous, free-standing sculptures in all different shapes and sizes. These sculptures are displayed in handmade boxes as wall installations. Other tops are dissected off their axils and mounted on the wall in a range of geometric patterns. Kerrigan recreates these formations into oil paintings on canvas, thickly applying layers of paint into circular configurations that mimic the spinning of the tops from an aerial perspective and depict his process of sculpting with paint.
This birds eye view is also employed in Kerrigan's noteworthy farmscapes where the "grass is painted so plush that we want to roll in it" and the pictorial plane is activated in a manner that "reflects a deep appreciation for the way the land carries a memory of its previous self." All of the latter work naturally evolved into the "Topographic" series, where Kerrigan reconstructs and assembles with wooden blocks and intensely colored sticks the "American heartland in miniature."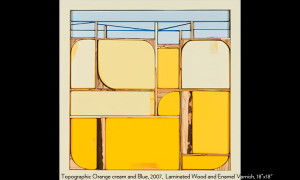 One can label Kerrigan's other multimedia boxes "game boxes," though they work equally well simply hanging on the wall. Laid horizontally, these art pieces become functional, asking the viewer to actually compete with the tops on beautifully crafted board games, each representing a different landscape: the farmlands, the suburbs and the city (in this case the City of Chicago is portrayed with some of its more notable landmarks). Depending on the playing field and topography of the game, points can be earned for knocking down the Sears Tower, the artist's loft, or the omnipotent water tower blighting the suburban housing tract.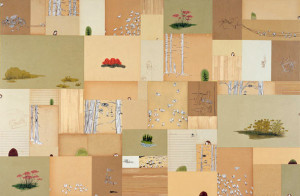 This exhibit is included as one of the featured programs for the summer long Chicago Department of Cultural Affairs and Bureau of Tourism's "Art of Play" event schedule. For more information on additional programming please visit www.artofplaychicago.com.
Emmett Kerrigan received his BFA from the Kansas City Art Institute in 1993.
He has been showing throughout the Chicago area ever since making his living as both an artist and trader at the Board of Trade. In this sense, he personifies the "top" that never stops working endless hours to produce an abundance of great work. For more information about this show or to request a catalog of the work please contact the gallery at 312-432-9500.
AND not to be missed!!! In our Project Space throughout this summer is featured a slew of fantastic new drawings by Chicago artist Lora Fosberg. Continuing in the vain of her most recent work, Fosberg entertains us and wise'ns us up with her account of the trials and tribulations of being human.