Heather Marshall – Olio Tableaux
Project Space: Kathy Ruttenberg
September 7th- October 13th, 2007
Opening Reception: Friday, September 7th, 6- 9pm
Artist Talk: Saturday, October 6th, 1pm. In conjunction with Chicago Artist Month.
Linda Warren Gallery proudly opens the Fall 2007 art season with an exhibition of new paintings by Heather Marshall, "Olio Tableaux."  This will be Marshall's first solo exhibition with the gallery as well as her career.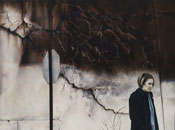 At first look, Marshall's meticulously painted oils on panel read as though they could be the source material from which her process begins – the photograph. But wanted from the viewer is not merely a closer examination of the subject matter, but an effort to see, observe and inspect the images in a manner akin to the ambition she has set out for herself as an artist & to truly learn how to perceive the reality before her, the amount of life, information and detail which exists in a single inch of an image and can be culled from it using paint.
The scale of Marshall's work, the average size painting in the exhibit being roughly 8" x 10", with many of them being considerably smaller, effectively serve to draw the viewer in and illicit this process of "seeing".  These tiny gems of workmanship are obsessively loaded with near microscopic detail. In certain cases, as in "Faith", Marshall selects a 5" x 5" panel upon which to paint her grandmother's altarpiece – a scene overflowing with a vast collection of religious iconography.  doubt this image, painted on this scale, was for Marshall not only a self-devised and significant technical challenge, but also an opportunity to more actively and intimately know this similarly obsessive, important person in Marshall's life. By its nature, this composition demanded an incredible attention to detail–in others, as in "By and By", one of the larger pieces in the oeuvre, at 14" x 18 ½", Marshall composes an image using multiple photographic source material, juxtaposing a contemplative woman passing by a cracking and decaying city wall.  Peeling, timeworn walls, seen throughout this new body of work, is another perfect vehicle to serve Marshall's compulsion to peel back reality and explore the details within the detail.
The imperfect, the used, the old, the forgotten, the passed on, passed by or passed down – all that could easily be ignored – is what stirs Marshall's interest and imagination. The passage and effects of time, how quickly things change and age, she seeks to capture and embrace, leaving behind work that resonates with a subjective form of realism, enriched by perspective, dramatized with light, and handled astutely with the keen awareness and skill of an important young painter.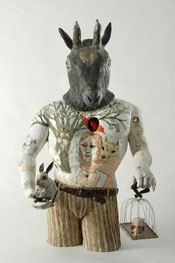 Heather Marshall lives in Chicago where she received her BFA from the School of the Art Institute in 2002. This exhibit is dedicated to the memory of Donald McFadyen, a professor at the School who had a tremendous influence on Marshall's life. She received her MFA from the University of Notre Dame in 2004. This young artist has previously exhibited in prestigious galleries in the area, and her work can be found in many significant private collections throughout the country.
Project Space, also through October 13th: In her sculptures, Ruttenberg seeks to level the playing field between humans and animals using personal narrative and symbolism