Jennifer Presant: Pro•ject
Project Space: Jeremy Long "Drawings and Studies"; Mark Mamalakis "Portrait of A Filmmaker"
Artist Reception: Friday, May 18, 6-9pm
Opening Reception: Friday, June 1, 6-9pm
May 18th – June 23rd, 2007
Linda Warren Gallery is proud to present the thoughtful and thought-provoking, mood-driven paintings of Jennifer Presant in her first solo exhibition at the gallery entitled "Pro•ject".  In meticulously painted, realist-based oil paintings, Presant pictorially represents the interaction of reality and illusion and the process by which memory and fantasy unfold. Interplays between conscious and subconscious thought processes are constructed as visual, poetic fragments, utilizing both object and figure.  Couched in dramatic colorcasts, illusionist form combines with bold graphic shapes. As with memory, parts of the canvas are fully realized while others remain hazy and mysterious. These staged psychological landscapes evoke multiple interpretations working toward the sense of "a waking dream – in order to show the ambiguous relationship that exists between time, memory and place, so that the viewer's imagination becomes an important element in the piece." ­­­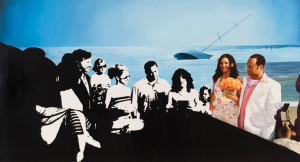 The projected image, and the notion of projection, is the most dominant object and metaphor pervading Presant's compositions and gives her paintings the look of theater, video and installation art, in addition to their multifaceted metaphoric meanings. In certain cases, as in "Three Sisters" the projected image of the artist's ancestors is painted over a figure to suggest ones longings of the nonexistent, as well as the power of the image to be a substitute for them. The projected image in such graphic paintings as "At a Close Distance" is used as a social commentary and critique of our mental disconnect from the current war in our media-saturated culture; and resonating in the work, "Low Tide", again is this pervasive sense of emotional detachment and the surrealism associated with what can become an all too common, though loaded experience – a friend's wedding.
Presant's extremely well executed paintings speak for themselves in a powerful and visceral manner. They urge the viewer to use their own perceptions to relate to these fictional documentaries – recalling, reconfiguring and reconstructing personal memory to contemplate the images, their subtexts and their projections.
Jennifer Presant's successful emergence as visual artist began immediately upon completing her MFA from the New York Academy of Art in 2002. Her prior career as a graphic designer continues to inform her work, which can be found in many noteworthy collections across the United States. She is actively exhibiting around the country while painting and living in Manhattan.
Project Space: Jeremy Long "Drawings and Studies", Mark Mamalakis "Portrait of A Filmmaker"
In the back PROJECT ROOM, it is an honor to present  a short film by local filmmaker Mark Mamalakis – "Portrait of a Filmmaker" . In this lovely,  poetic piece Mamalakis traces the origins and inspirations of his lifelong commitment to filmmaking in Chicago.  And, in addition, in the back room,  will be Jeremy Long's newest large scale painting of his own self-portrait as an artist –  in "1920 N. Dayton"  – along with a great selection of his drawings and studies – not to be missed either.