Jeremy Long: New Paintings
September 9th-October 29th, 2005
Opening Reception Friday September 9th, 6-9pm
Jeremy Long's paintings are devoted to the joy of observation, the earnest investigation of knowing reality through depiction and an unabashed demonstration of the passion to paint. In New Paintings at Linda Warren Gallery, Long pays respect to the lineage of grand scale and plein air painting.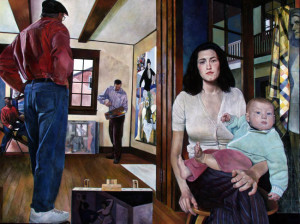 Employing size to evoke a sense of awe, visual wonderment and a spectacle for perceiving, the monumental works on display portray tangibly scaled figures within the confines of the artist s immediate environment be it the studio or home. They are generous looks into the depths of a painters concern for his personal reality and medium. Through referencing, in their scale and style, instructional history painting, they posit the painter himself, instead of mythical and religious figures, as the central hero and model. Long enters the painting and steps outside of his reality, twisting notions of historicity. Through deputizing himself as hero he utilizes this larger than life role.
Long is found amongst himself, surrounded by reproductions of prior works, alluding to the ever-present doppelganger. They skew the picture plane through the process of paint application, challenging and subduing our gaze. Though an illusion of reality dominates, where depth and perception mimic our natural way of seeing things, improbable and warped representations also manifest. At close inspection, each portrayal of self is somewhat transformed from its previous depiction. Is Long seeking redemption through reconciling the past by restructuring his past ventures? Is he cleverly recording the authentic by use of this painted (heightened) timeline?
By playing with both perspective and time, Long must view himself from many angles in a self-confined exploration where imagination is allowed. The gathering of these paintings jointly effect the reality of each work. The onlooker has to question and reflect on short-term memories while being barraged with actual works. In concert with one another, they develop into mirrors for grasping the future and past. Long not only questions his, but our reality of seeing and the romantic idea of The Painter takes stage at Linda Warren Gallery.
Jeremy Long is currently a visiting professor at Knox College in Galesburg, Illinois. He received his BFA from Kansas City Art Institute in 1995 and his MFA from American University, Washington, D.C. in 2001. This marks his first solo exhibition at the gallery.