Joseph Noderer: Twelve Hundred Miles Down the Street
March 5th – April 3rd, 2010
Opening reception with artists Friday, March 5th, 6-9 pm
Project Space: Michael Stillion: Recent Work
We are pleased to announce the opening of Joseph Noderer's second solo exhibition at the gallery "Twelve Hundred Miles Down The Street": a title referencing Noderer's recent move from Chicago, Illinois to Austin, Texas and the subtle, though significant shift this change has caused. The paintings, mainly small to medium sized acrylics on panel, are landscapes. Approximately half were created while Noderer still lived in Chicago, the other half in Austin. As in earlier work, Noderer's inspiration comes from that which is immediately around him, his day to day life, his home, his neighborhood; and like before, and moreover, they continue to be the forms by which Noderer expresses and describes his own deeper moods and emotions, triggering, mirroring and facilitating Noderer's self-expression. They, the scraggily trees, and mangy bushes, the rickety structures and the dilapidated shacks, the ebbing moons and transient clouds and sky, are the language of his visual poetry.
Unlike other work, i.e. the work created during his time in Chicago, that were highly edited, basically fictitious spaces, closer to fantasy recreated from memories, photographs and observation, these newest paintings are not composites. There is no obvious portraiture or figuration this time around, though again, it can be said that every work has a layer of self-portraiture within it, and a seemingly direct allusion to portraiture in the likes of such pieces as Drifter, Evening Cactus, and Store. In these new works, Noderer closes in on a specific plant or structure, providing us "close-ups" of the subject's individuality, as if to illuminate their unique personalities, rather than them being a reflection of his own. A hint that Noderer is more at peace with the new geography, climate, light, vegetation and subject matter around him in Austin, and more connected and invigorated by these new surroundings, Noderer's paintings reflect more of the way things really are, letting their essence and truth inform the paintings.
Noderer's idiosyncratic style is a natural extension of his upbringing and life's influences – his roots in Western Pennsylvania, his admiration of artists from George Inness to Charles Burchfield and a reverence for music ranging from folk to the avant-garde. Invariably simple and unpretentious, personal and honest, deliberate and economical, his paintings are nonetheless mysterious, full of intricacies and nuances of color, form and surface. Noderer's resoundingly expressive work continues to make epic statements about the everyday.
Joseph Noderer received his BFA at Tyler School of Art in 2001 and his MFA at The School of the Art Institute in Chicago in 2006. His work can be found in many prestigious private collections throughout the country, including a recent acquisition by Kirkland and Ellis in Chicago, as well in the Nerman Museum of Contemporary Art in Kansas City.
Project Space: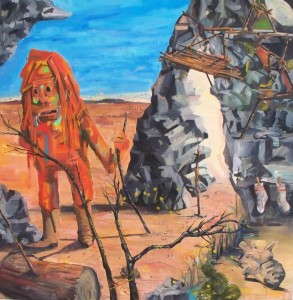 In The Project Space we present for the first time the inspired works of Ohio-based artist Michael Stillion. Figuring predominately in the landscape-driven fantasy-like oil paintings is a curious narrative, featuring a quasi-sympathetic, "down-on-his-luck" character, "the Wonderer", who seems to rise up from Stillion's fractured, gestural, mishmash color brew like a creature from the black lagoon. This swamp-monster creation, both pathetic and humorous is just one incarnation of the many pseudo-monsters which appear in Stillion's oeuvre and find there way to the surface from Stillion's push and pull with abstraction. An avid, life-long watcher of mainstream television, Stillion's influences come from art history and pop culture: comic books, anime, horror films, reality shows, MTV, and iPod commercials.  These images siphon through Stillion's childhood memories, day to day life experiences and emotions, to present us with amalgamations of all these forces, and engage us with strong craftsmanship, humor, empathy, and imagination.
Michael Stillion received his BFA in 2002 from Columbus College of Art and Design and his MFA from Indiana University in Bloomington. He has been the recipient of a Joan Mitchell Full Fellowship, an Ohio Arts Council Grant for Individual Excellence, as well as a One Year Full Fellowship to attend the Roswell Artist-in-Residence program. He has been showing his work steadily in the past years, including participation in a group show at the University of Cincinnati; "I Gave Away the Sky"; featuring the works of Raymond Pettibon, Chris Johanson, John Cage, Allen Ginsburg, Larry Rivers, amongst others. His work can be found in many private collections and was recently acquired by the Anderson Museum of Contemporary Art in New Mexico.