Joseph Noderer
Project Space: new drawings by Nina Rizzo and Michelle Wasson
February 22nd – March 29th, 2008
Opening reception Friday, February 22nd, 6-9 pm
Linda Warren Gallery is proud to announce the opening of Joseph Noderer's first solo exhibition in the gallery. Noderer's paintings, boldly simplistic and direct, compellingly deliver mood, mystery and poetry. His subject matter is unpretentious: houses, trees and skies predominate. They can be read as psychological landscapes, even the occasional portrait. Noderer works from reality, using photography as source material to assist in color palette, form and composition. Some of these consequential photos will also be on display. Ultimately, however, they are fictitious spaces, a pastiche of deconstructed and reconstructed elements woven together to create new situations of decidedly more personal significance and meaning.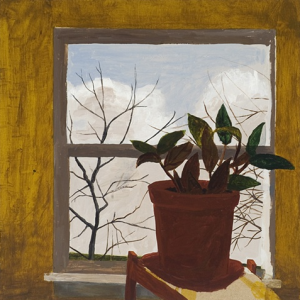 Elements from Noderer's immediate environment in Chicago are often used and combined with marks and manifestations from other areas that he has either lived in or visited that resonate deeply for him — especially the land surrounding his beloved hometown area in Western Pennsylvania. "Painting is a way to externalize how all of my different influences color the way that I see the world that I live in…through these places I see something personally compelling, but I also see in them reflections of traditional American culture. I find the reflections of folk stories, music and painting in what I see around me.  I want to express that connection through my work without being beholden to it. I feel as though I am a part of these traditions, an extension of them."
Noderer's ability to make epic statements about something as simple as one's own backyard or windowsill is his goal and his accomplishment. So unmistakable is Noderer's pleasure to actually be in the new settings he formulates that the invitation to partake of them, so genuinely offered, is so readily accepted.
Joseph Noderer received his BFA at Tyler School of Art in 2001 and his MFA at The School of the Art Institute in Chicago in 2006.  Though just at the start of a promising career, his work is already in several prestigious private collections, as well as a recent acquisition by the Nerman Museum of Contemporary Art in Kansas City.
Exhibiting in the Project Space are collaborative works on paper by Nina Rizzo and Michelle Wasson. The overlap of the individual practice of both artists includes an investigation of architecture, imagined landscape, two-dimensional space, the relationship between the organic and the structural, science fiction, geometry and liquid materials.  Trust replaced rules and each maker began these works on paper, traded them, finished some, or traded back again.