Juan Angel Chavez: "Dragging the Leash"
December 11th – January 16th, 2010
Project Space: Shannon Kerrigan – "Diatoms, Doilies and Diseases"
Opening reception with artists Friday, December 11th, 6-9 pm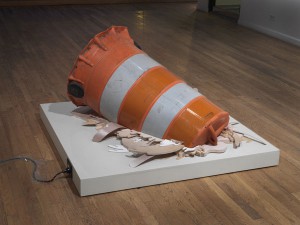 Linda Warren Gallery is proud to present Juan Angel Chavez's first solo exhibition in the gallery,"Dragging the Leash." Found objects, carefully and strategically mined and foraged from the urban jungle of Chicago are the highly-valued material Chavez combines and collages to create his objects, sculpture, assemblages, light boxes and installations. As each rescued artifact carries its own history, purpose and personality, forming a layer of meaning to Chavez's work, so does his experience of carefully and strategically scavenging and collecting these cast-offs. New ideas and new materials are cultivated by Chavez in these post-industrial breeding grounds as abandoned structures become consumed by the shapes, patterns and textures which emerge from an ever evolving state of deterioration. Chavez's creations are re-formations and reflections of this complex world – both its architecture and its inhabitants – filtered through his own experiences, memories and relationships to this environment.
Some read like poetic time capsules, capturing through beautiful, miniature constructs a state of precarious and fragile decay; remnants of today and yesterday collaged together into balance and permanence. Other works focus on the human element – the other societal cast-offs- the street people, the homeless, the gang bangers, the night owls and the lost and lonely souls, who for whatever reason, are out there trying to survive, and like the artist himself, hunt for their bounty or prey. In the act of obtaining his artistic tools to create his visual language, Chavez has grown to understand what he calls these wild, cagey, "feral-like" folk. Expressions of his empathy with their plight surface in the large-scale light boxes on display. Pieces such as "Deep Scars"; and "Last Breath" speak of street life and all that it encompasses, including for Chavez, much beauty and intrigue. Meticulously crafted growth-like forms activate the environment of these massive collage works, acting like virus or fungi consuming their surroundings. Romantically, the "feral" may enjoy a freedom that others do not. But like any animal, their need for food, shelter and as humans, clothing, keep them tethered to a state of domestication – in other words, "dragging the leash" and controlled by the necessity of staying alive.
Juan Angel Chavez started his artistic career painting murals in Chicago neighborhoods and became a leading force in the Chicago public art community where his commissions can be seen throughout the city. His work has been exhibited extensively both here and abroad including Chicago's Museum of Contemporary Art 12 x 12, The Mexican Fine Art Center Museum, The Hyde Park Art Center (where he currently is in a group exhibit "Close Encounters" running through January 24, 2010), MassArt, The Center of Contemporary Art in New Zealand amongst others. He has been the recipient of numerous grants and awards including the prestigious Richard H. Driehaus Individual Artist Award, the Louis Comfort Tiffany award in NYC and most recently the Artadia. Currently a faculty member of the School of the Art Institute teaching sculpture, he himself has never obtained a degree. Born in La Junta, Chihuahua Mexico he moved to the United States at the age of thirteen after working as a professional jockey.
Project Space: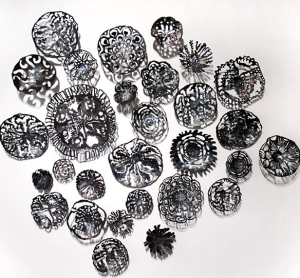 Organic formations and the metamorphosis of ideas and materials overtake the walls in the Project Space with Shannon Kerrigan's new body of work entitled "Diatoms, Doilies and Diseases." Utilizing her primary artistic practice of welding, Kerrigan forges her pieces from steel, using a plasma cutter to freehandedly draw and burn into the metal. Each piece, though installed in clusters and groupings, reads like an individual organism, intricate, geometric and symmetrical, calling to mind sea creatures, corals, flowers, mandalas, snowflakes, viruses and an array of other living forms. Under a microscope, these living organisms (including the herpes and influenza virus) are viscerally wonderful to observe while laying bare the interconnected relationships underlying the structure of many forms in nature. In addition, Kerrigan converts the sculptures themselves into drawing tools, brandishing their designs onto large sheets of paper like burning mono-prints – creating fossil-like representations of their original state. Throughout Kerrigan's work the process of growth, disintegration and rebirth is both activated and achieved. Kerrigan received her BFA from The School of the Art Institute of Chicago in 1996. She has been teaching art for over a decade at numerous Chicago schools and institutions, in a variety of programs, including her current positions at the Hyde Park Art Center and the Museum of Contemporary Art. This marks her first time showing at Linda Warren Gallery.