"Aerie": Judith Mullen
January 22nd – February 27th, 2010
Project Space: Matthew Woodward
Opening reception with artists Friday, January 22nd, 6-9 pm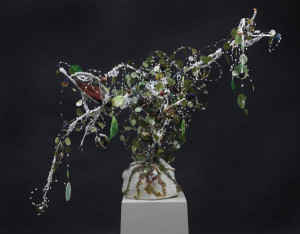 Linda Warren Gallery is proud to open 2010 with "Aerie", Judith Mullen's first solo exhibition at the gallery featuring a new body of visually complex paintings and sculpture. Using a broad range of materials and techniques, Mullen illuminates through process and imagery, mankind's age-old and everlasting need to make sense and order out of every day life and explore our inextricable relationship to the natural world. Her fresco-like pebbly paintings, created on a surface mixed of sand and limestone putty, allude to the cave drawings of prehistoric man, and the timelessness of her creative act: the artistic pursuit of communicating ideas. Like a tablet or tableau, they tell the story of Mullen's daily commute to and from her home in the green suburbs to her studio in the concrete jungle, habitat to habitat, shelter to shelter. Their meandering lines and intersecting marks resonate like "mental mappings" of a contemplative, though also commonplace journey. These are artifacts of our contemporary times – one day to be excavated and puzzled together by future generations. Throughout Mullen's oeuvre, a viewpoint of whimsy, ecstasy and reverence toward her subject matter is revealed; they are fluid, and joyous, atmospheric and grounded, of this earth, but obviously spiritual, comprised of organic objects and manmade material to convey nature's beauty, adaptability, and possibility, as well Mullen's sense of hope, inspiration and aspiration.
In the 2-dimensional work, wax, tea, pigment, ink and charcoal are built up in layers on the stone-like surface to convey through abstraction and representation a dynamic, meditative and spiritual world.  Featured most predominately in the imagery are birds. Emerging from the swirls and spins, hiding beneath the drips and dots, living between the street signs and traffic lights; they are the strong survivors of the cosmos Mullen sets out for us to enjoy. Symbolizing much, the birds' inherent lightness contrasts well with the heaviness of the rock paintings and the chaotic world it must navigate. Personally symbolic, they represent for Mullen the transience of life itself.
Mullen's tree sculptures, which came later in her artistic practice, emanate as a perfect extension of the paintings, offering, as they do, a magical colorful, and more airy haven for the "bird". Inspired by the unusual nesting practices of the Australian Bower Bird, Mullen similarly culls her materials from a cornucopia of resources. Comprised of broken branches, rice paper, wire, plaster, paint, Styrofoam, studio rags and seemingly anything Mullen finds useful or intriguing, evocative and alluring, tree forms are invented and a merging of cultural debris and nature takes shape. This synthesis of the old with the new creates a visual experience, which reflects Mullen's introspection, meditation and ultimately, salvation.
Judith Mullen received her BFA from the School of the Art Institute of Chicago in 2001. She has exhibited throughout the Midwest, including shows at the Chicago Cultural Center, Evanston Art Center, a recent solo exhibition at The Contemporary Art Workshop in Chicago and is currently having a concurrent solo exhibition in Los Angeles at JK Gallery. She also will be having a solo show this year at The Krasl Art Center in Michigan. In 2007 she was the recipient of numerous grants and awards, including an Illinois Arts Council Fellowship.  Her work is also on display in the Drawing Center of New York's artist's registry.
Project Space: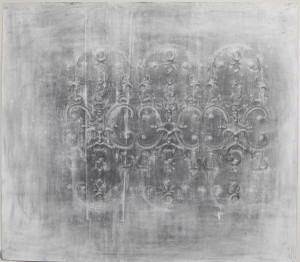 Emerging from a graphite haze, the ornate posts and finials of Matt Woodward's paper works display the delicate beauty of a bygone era. While wandering through America's steel and glass cities, Woodward cannot help but stumble upon these obsolete metal ornaments. Entitled "Not Again, The Old Men With Beautiful Manners," his collection of drawings in the Project Space seeks to preserve relics of a lost visual vocabulary. Woodward works reductively with graphite, first pouring graphite powder onto paper and then removing it through sanding. After refining the intricate post and gate designs, he adds further detail and texture in graphite. The results are images that are simultaneously rough and delicate. Crinkled paper, torn edges, and rough lines betray the soft curves of the metal ornaments. Woodward describes his pieces as a dialogue of presence and absence. Just as the stems of his gates fade away, so have such designs fallen out of favor in the modern city. Yet, they can still be found on old buildings and neighborhoods, bringing to mind the plant forms that inspired their creation more than a century ago. Woodward received his BFA from the Art Institute of Chicago in 2005 and earned his MFA from the New York Academy of Art in 2007. He was recently the recipient of a Merit Award from the Visual Art Center of New Jersey and his work is part of the permanent collection of the Museum of Modern Art, New York. This is Linda Warren Gallery's second exhibition of Matt Woodward's drawings.