Larry Roberts / Robert Taplin
Friday, July 7 – August 19, 2006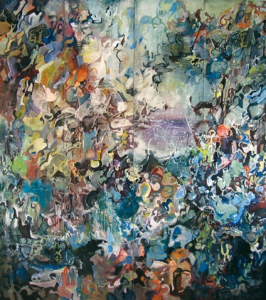 We are pleased to feature in the gallery this summer a two-person exhibition of paintings by Larry Roberts and sculpture by Robert Taplin. Seeing the work of these artists together in the gallery one is immediately struck by the materiality of their work and their investment in it. Although their work employs widely divergent means each piece evokes a plethora of possible readings and suggested narratives, be they achieved through figuration or abstraction, object or illusion, surface or structure.
Robert's abstract acrylic paintings are not easy to categorize. The critic G. Jurek Polanski describes the work as "icons of a tentative, searching spirit born of raw materiality." Even when hard pressed Roberts won't make a statement about his work other than to describe his processes. Each piece starts with no preconception or preset vision; rather the painting, allowed to stream from his subconscious (or as he puts it: dream state) into the physical plane and becomes the vehicle upon which the conversation begins. Sometimes the brush strokes do the talking, as in "The Morning in Your Eyes" painting on panel where the paint's more controlled and opaque application suggests for him beautiful waves churning in a chaotic yet tranquil landscape and a reflection of the universal struggle to tame the chaos of our lives. "The Way to Blue" is seemingly more random, though only at its outset, and an example of another process Roberts employs of "wet on wet" painting. For him, a critical determination is always how to enclose and complete (i.e. frame or not frame) each painting so as to insure his control over the work from its inception to completion. All of these decisions, in his view, serve to reveal, reflect and maintain the integrity of the content he wishes to convey.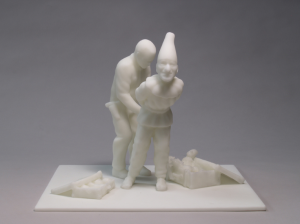 Taplin has pursued the possibilities of narrative figuration in sculpture for over twenty years following an unusual path in the world of contemporary art. The sculpture on display will span much of that period by juxtaposing three large works from the eighties with seven works from recent years. The connection between the two groups of work is immediately clear. They are all narrative tableaus of figures caught in media res i.e. the middle of things. The differences are also striking. The works from the eighties are fully life-size figures totally absorbed in specific, but ambiguous tasks. In "Walk Like a Man (Heavy Sledding)," a tall, naked man with a child on his shoulders strides purposely ahead, dragging a huge picnic basket on a sled. In the "Coals," a phantom like figure sweeps a pile of coal into a bag held on the floor by a woman in a deep crouch, and in "The Source" another naked man with a dowsing rod "goes to ground" as a bird flies up in his face.
In contrast, the ten-inch high figures from the recent "Punch" series insert a rococo era "Punchinello" figure into the modern world. In "Punch Stopped at the Border," our hero is being arrested while his suitcases lie open at his feet. In "The Young Punch Goes Shopping with his Mother," a young, but already old Punch crosses the street, holding hands with his decidedly elegant mom. The differences in technique are also striking. The life-size figures are forged steel that is hammered out of sheet metal, as with armor, while the "Punch" figures are cast in a milky, translucent resin.
Larry Roberts is a self-taught artist who has exhibited throughout the mid-west and received numerous commissions. Roberts currently resides in Chicago. Robert Taplin, also self-taught, lives in Connecticut and has exhibited extensively throughout the United States, most recently with a solo exhibition at Winston Wachter Fine Arts in New York. In 2003 he was the recipient of a Guggenheim Fellowship and he has received numerous other grants and commissions. This will be the first exhibition of both artists at the gallery. Also featured "In The Office" is Colleen Kelsey's new body of work consisting of drawings on both paper and fabric.