Lora Fosberg: You Can't Fall Off The Floor
June 25, 2010 – Saturday August 21st, 2010
Project Space: Chris Cosnowski: Apocalypse
Opening Reception for the Artists: Friday June 25th, 2010 6-9pm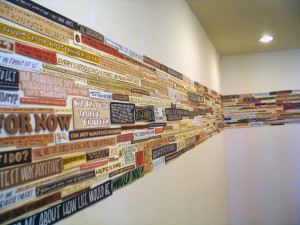 Doomsday. Chaos. Destruction. Collapse. Helplessness. Hopelessness. Inertia. Excess. Waste. Hubris. Humor. Irony. Empathy. Humanity. Mother Nature. Beauty. The Tragic. The Silly. The Future. The Past and the Now. These are some of the dueling ideas expressed in Lora Fosberg's third solo exhibition at the gallery "You Can't Fall Off the Floor" and Chris Cosnowski's "Apocalypse" on display in the Project Space, both opening Friday June 25th. These two artists' ability to give grace to mankind's foibles and fallacies, our general lameness as a species, has defined much of their work for many years. Their diligent, meticulous, labor-intensive studio practice (Fosberg as a draftsperson, painter and printmaker, Cosnowski as a realist painter) points to a private form of salvation, a personal remedy to escape from all the madness. But as salient as the works' formal qualities is its ability to communicate weightier ideas. Employing clever, accessible, arguably subversive mechanisms to reach the masses – humor, self-deprecation, beauty and skill – these artists allow us to both tolerate and even embrace our egocentric and destructive selves. Fosberg writes of feeling like we're "more at a tipping point than ever before" and Cosnowski recalls the late George Carlin's assessment that humanity is "circling the drain". No doubt to all, civilization keeps scraping the bottom of the barrel and vainglory should be at an all time low. So perhaps the pill to remind us that we are both our own worst enemy as well as each other's only friend is to look closer at our flaws and imperfections and maybe, just maybe… we really won't like at all what we see but recognize what having a vision can accomplish. And most likely, as Fosberg and Cosnowski and most of us probably feel, for good and for bad, we keep on livin' like we're livin'.
New elements Fosberg introduces to her oeuvre are the exciting large-scale linoleum cut collage pieces that are influenced by a recent personal encounter with a large Anselm Kiefer wood cut. A large percentage of her work, as before, depicts trees and forests, either caressed and revered or chopped down, mauled and obliterated. Her recent move to Bloomington, Indiana – the Hardwood Capital of America – has even further unleashed the unabashed "tree-hugger" in herself, and these large collage pieces – "Right Before No More" and "The Big Dig Deep" – allude to her personal surroundings and seeming desire to expand her work into the field of wallpaper – which would fully envelope the viewer in her vision as does her wonderfully adaptable, site- specific, 40 ft. long text-based piece entitled "You Can't Fall Off The Floor." Using hundreds of pieces of hand made paper each with hand painted text, each adhered to the wall individually, Fosberg draws from what she calls "the air of now" – words she's heard from the moment – from other "artists, art critics, politicians, literature, song lyrics, [her] mother, [her] brother, [her] lover…the man on the street" and transcribes them into "history paintings".
Another fresh treat in the exhibition is Fosberg's collaborative work with fellow Chicago artist and friend, photographer Liza Berkhoff. Together they have produced some inspiring works like "Dare to Fail", "I Fall in Love Every Day" and "Yes Can Be Such a Surprise." Berkhoff collages black and white photographs of factory scenes and street people that Fosberg embellishes with mod rainbow colors and uplifting text that further the all pervasive theme of balancing stark reality with levity and wit.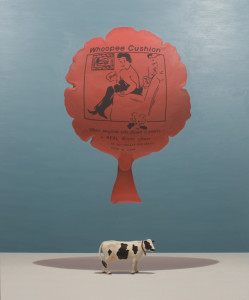 Chris Cosnowski's hyper-realistic painting "Global Warming (Would Someone Please Take This Problem Seriously)," wherein a whoopee cushion floats over a plastic cow, relates to the notion that many scientists consider that cattle flatulence causes more greenhouse gas than cars. In another elaborate painting, "P.O.W. II", Cosnowski depicts a plastic toy soldier attached to a tree of model parts. The image suggests a crucifixion and addresses the dehumanization of war, the "ready-made" soldier, the inescapable quagmire that always ensues and the commerciality of this deadly arena.
Lora Fosberg received her BFA from the University of Illinois, Champaign and her MFA from the School of the Art Institute of Chicago. Her work has been exhibited at the Museum of Contemporary Art of Chicago's 12 x 12, the Urban Institute for Contemporary Art (UICA) in Grand Rapids, Michigan, in prestigious galleries in Copenhagen and London and galleries throughout the US. Her work can be found in many prestigious corporate and private collections. She is also represented by Jack Fischer Gallery in San Francisco. Chris Cosnowski received his BFA from the Columbus College of Art and Design, Columbus OH and his MFA from Northwestern University in 2000. He currently teaches full-time at the American Academy of Art in Chicago. He is represented by Lyons Wier Gallery in New York and Dolby-Chadwick Gallery in San Francisco, CA. His work can also be found in numerous private and corporate collections. Liza Berkhoff received her BA in 1995 from Columbia College. She is represented by Carrie Secrist Gallery in Chicago.