Lora Fosberg, "A Field Guide to Forgetting"
Project Space: Tom Van Eynde, "A Few Flower Photos"
October 17th – November 29th, 2008
Artist Reception: Friday, October 17th, 6-9 pm

Linda Warren Gallery is pleased to present Lora Fosberg's second solo exhibition at the gallery, "A Field Guide to Forgetting." As the world's peace of mind dangles precariously on a precipice and our collective anxiety crescendos into an emotional tsunami, Fosberg's art mirrors the ongoing mess of our lives, at times quite literally, but always figuratively. Presented in her recent drawings, both large scale and small, are visual bombardments of chaos, clutter and tumult with alternating suggestions of hope and salvation. Communication of any sort seems to be the main panacea, but the message delivered is full of contradictions – driving us to the conclusion that all might be but foolery and failure. Telephone towers, the surrogate of this idea, stand isolated in barren landscapes, screaming random bits of text in all directions –both positive and negative, kitschy but comforting. Like beams of sunshine emitting promises of utopian ideology, they similarly read as beacons to a connectivity fraught with hazard. Relate or isolate? Neither position ultimately prevails.
Like the vacillating subtext of the overall narrative, Fosberg's new work is either more colorful or more monochromatic than before – her lines, more assured and elegant, are compositionally ever more detailed and complicated. Her ability to expand her own experiences and insights in a manner that lets us believe they could be our self-portraits as well is the unconscious result of an artist who understands that if you can laugh at yourself, you are sure to make others laugh as well.
Lora Fosberg received her MFA from The School of the Art Institute in 1992. Her work has been exhibited at the Museum of Contemporary Art of Chicago's 12 x 12, the Urban Institute for Contemporary Art (UICA) in Grand Rapids, Michigan and galleries throughout the country. Her work is in many prestigious private and corporate collections and a decade of her art now appears in book form "The End of the Beginning" released this past summer, which is available for sale at the gallery.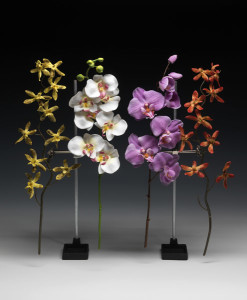 In the Project Space, check out "A Few Flower Photos," Tom Van Eynde's ongoing series of studio-shot still lifes. In keeping with Van Eynde's desire to leave interpretation up to the viewer and his motto of "looking is the beginning of seeing," these photos are unassumingly deceptive.
Tom Van Eynde's commercial photography skills are well known and appreciated by artists, galleries and museums in Chicago. His photographs have been exhibited at the Oriental Institute, the University of Chicago and the Chicago Cultural Center as well as galleries around the country. His work is in numerous public and private collections, including the Museum of Contemporary Art of Chicago.