Loretta Bourque: Charades
Rob Bondgren: All That Glitters
March 4 – April 9, 2011
Friday, March 4th, 2011 from 6-9pm, Linda Warren Gallery will be presenting the opening reception of "Charades," Loretta Bourque's second solo show at the gallery, and "All That Glitters," Rob Bondgren's first. Though vastly visually different, these artists, both close colleagues and comrades in sensibility, look to the human body to explore ideas surrounding identity and how we as a society and culture, give expression to passion, obsession and desire. In both oeuvres, reality is honed through the lens of sexuality, fantasy, and fetish, and objects and accoutrements, such as wigs, costumes, masks, baubles and jewels are metaphoric tools to help express and address the foolery, façade, flamboyance, fear and failure of our human condition. Bourque and Bondgren's compulsively crafted worlds are alluring, kinky, vibrant, bold and colorful. Their work is created through obsessive methodologies of their own making which reveals much about their makers, acting as surrogates for their own self-awareness, expression and documentation of the concepts they posit.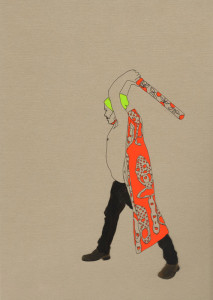 The gritty, decadent, sinfully fun energy of Bourque's upbringing in New Orleans continues to filter through the work, as does her past career as a commercial illustrator. Semi-vaudevillian scenarios, mindfully art directed, staged and photographed by Bourque, are the subject matter for her primarily, large scale oil paintings and small, fresh, ink and oil drawings on Dura-Lar. Friends, family, and often she, appear guised in garbs or dressed in drag that proffers the appearance of one identity while affording the opportunity to shift, posture, hide or reveal others. These players assist Bourque in managing her own existence, communicating her own voice and stirring up tangible cultural pathos for the viewer. This framework frees Bourque's ability to express herself and reveal a spectrum of otherwise intimate emotions – whether it be pain, uncertainty, disappointment, mortality, and the banality of life itself.
Only an infant during Bourque's last show, her now four-year-old daughter has taken center stage in the new work, helping to illuminate some unadulterated truths, like the loss of innocence, the evolution of inhibition and the formation of illusion and pretense. Nothing like the drama of motherhood to bring fresh fodder to the work. Whereas the flat, bold and bright color fields in Bourque's large-scale oil paintings serve to pop the characters off the canvas, it is in the new, more immediate, small-scale, and minimal ink and oil drawings, where Bourque herself can relish in the passion of direct expression. While still assisted with the acting and role-playing of others, Bourque here captures the fleeting essence of time and divulging moments of authenticity and candor.
Bondgren conjoins and allegorizes all things of bling and eye candy – gorgeous young men, pleasingly sculpted body parts, multi-carat gemstones, shiny jewels and flashy cars – into objects of desire – paintings, collage and digital prints – to talk about desire. At once flashy, ostentatious, lustrous, decadent, indulgent and mesmerizing, his works mimic and elicit the alluring, fractured, distractive qualities of wanting. Reappropriating images derived from gay cruising websites, internet pornography or mass-produced magazine advertisements, Bondgren rethinks and retools representation and the inundation of commoditized offerings. Consumed, fetishized, idolized and idealized, Bondgren entices us with images and an image-making strategy that delights with the sheer pleasure of looking and repulses with the blatant display of excess and desire. Bondgren's stance is both commentary and critic, laughing at himself in the process. As in the "Robbo00: Self-portrait as an Outdated Profile Pic," is he portraying himself both vain and superficial, seemingly fantasizing about the youth he is dehumanizing or is he merely giving documentation to the culmination of his concept and craft? For though we well may realize that "all that glitters is not gold," to want, and to want and to want is very human.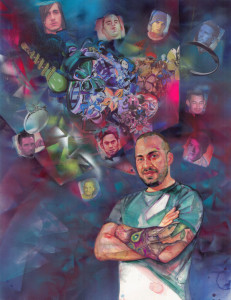 And for Bondgren in 2009, when he began creating this body of work, his wanting was for what he thought was the unattainable – legally marrying his partner of 16 years. Being gay and being locked out from this multi-cultural ritual and tradition produced a natural, self-defensive form of cynicism toward the powerful, symbolic and sentimental meaning of a wedding ring. He has since legally married, exchanged vows and wears with pride, a wedding band of his own. This perhaps subversive aspect to the work – a layer of sincerity and sentimentality – reveals how tricky it is to communicate and represent with an image, reality. The multifaceted nature of the diamond, and all it can allude to, seems an ideal form for elusion and illusion.
Loretta Bourque received her BFA from the School of the Art Institute of Chicago and her MFA from the University of California, Davis. She has exhibited extensively throughout the United States and abroad. She currently lives and works in Chicago where she is an Adjunct Assistant Professor at the School of the Art Institute of Chicago. This marks her second solo exhibition at the gallery. Rob Bondgren received both his BFA and MFA from The School of the Art Institute of Chicago. Bondgren has shown his work throughout Chicago, New York, Toronto and other cities. He is currently the Interim Executive Director, Continuing Studies, Summer, Early College and Teacher Programs at the School of the Art Institute of Chicago.