Loretta Bourque: Sex, Dogs and Random Droll
December 1st – January 6th, 2006-07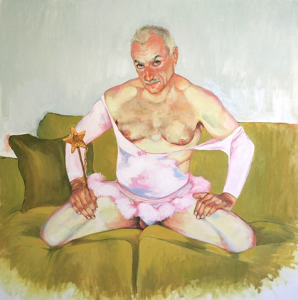 Linda Warren Gallery is proud to heat up the winter season with "Sex, Dogs and Random Droll," a solo exhibition of paintings by Loretta Bourque. As the title suggests on display are three seemingly separate series of paintings: the self-portraits series, the tutu series, and the dog series. Each, however, serve as interchangeable vehicles for the artist to explore her personal fascination with such subjects as gender, beauty, costume, fashion, fetish and identity. With humor and compassion, Bourque exposes life's subtle contradictions and oddities and successfully manages to destroy, without killing, the concept of an idealized beauty. A more real and ultimately accessible reality is portrayed, taking into consideration the imperfection and foibles of the human condition.
Bourque's New Orleans roots and upbringing have greatly informed her imagery as well as the feel of much of the work. Often bold in its unabashed sexiness and present even in the most innocuous of images are palpable emotion, subtle drama and the burlesque. Bourque fearlessly lays bare her own idiosyncrasies in self-deprecating self-portraits, such as "Self-portrait with Camel Toe" and "Self-portrait as Bride." This ability to make fun of herself offsets the viewer's potential discomfort with witnessing others in vulnerable and unflattering positions.
By costuming herself as a "Plushie," Bourque makes reference to odd fringe fetishes while exposing one of her own: the painting of friends, male, female, adult and child in a young girls pink tattered and torn tutu. In the tutu series, now numbering seventeen, Bourque ironically uses clothing to undress and uniformly expose the individuality of the sitters. The near sacrosanct tutu traces a history of the artist's relationships and encounters as it mutates into a symbol of connectivity and artistic expression.
The transformational capacity inherent in masks, costumes and the manipulation of beauty is also profoundly realized through mans relationship to other living beings. The unconscious ability of the dog to help us understand our emotional self may be more conventional than other ways portrayed in this exhibition, but a momentary gaze into the eyes of one of natures best friends allow for the projection of a universe of emotion and the most sought after form of love- the unconditional.
Loretta Bourque received her BFA from The School of the Art Institute of Chicago in 1991 and her MFA from the University of California, Davis in 2000. She has exhibited extensively throughout the United States and currently lives and works in Chicago where she teaches painting and drawing at the SAIC. This marks her first solo exhibition at the gallery.