Tragic Beauty: Louis Barak and Marco Hafid Lopez
January 14 – February 19, 2005
Opening Reception: January 14, 2005, 6­–9PM
Linda Warren Gallery is proud to present the vibrant colors, elaborate style and complex compositions of Louis Barak and Marco Hafid Lopez in Tragic Beauty. Young artists from Chicago, Barak and Lopez have influenced each other's lives and artistic practice since they befriended each other on their first day at Lake View High, located on the city's northwest side. First developing an artistic dialogue while writing with the graffiti crew FTR (Fuck the Rest), Barak and Lopez both went on to apprentice with Gallery 37 Center for the Arts. In addition, the two artists were awarded scholarships to Ox-Bow School of Art (the School of the Art Institute's prestigious affiliate summer school and artist's residency program in Michigan) and they both studied at the Pratt Institute in New York. Barak eventually returned to Chicago, finishing his BFA at the School of the Art Institute in 2004. Tragic Beauty marks the first major exhibition of his work. Lopez, on the other hand, remained in New York where he has been busy participating in several group exhibitions; Tragic Beauty is the second exhibition at Linda Warren Gallery featuring his work.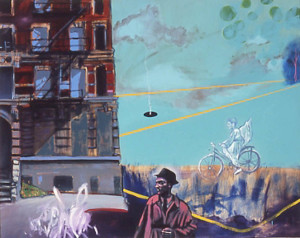 Tragic Beauty aspires to highlight the aesthetic similarities between Barak and Lopez's work, how they push the boundaries of painting and explore their individual identities while simultaneously exhibiting a similar sensibility, compassion and awareness. The life and artistic parallels between Barak and Lopez are remarkable not solely because they thrived despite growing up in an environment rife with gang violence, drug abuse and poverty. Indeed, both artists have overcome obstacles with the help of involved mentors and teachers, merit scholarships, and, moreover, artistic talent, hard work and ambition. Utilizing the distinctly urban material of aerosol paint along with more traditional mediums of acrylic and oil, Barak and Lopez create visually compelling bodies of work which speak loudly and resonate emotionally on tragedies both personal and remote.
Barak's work is often influenced by the past while remaining unequivocally contemporary. Characteristics and conventions of film noir emerge in many of his works, as in Untitled (2004) in which a tough character stands inflexible against the backdrop of a daunting city street. Not necessarily depicting a particular time and or place, Barak paints modern urban landscapes much more vivid than reality and imbued with a particular sentiment, a consciousness of existential anguish and particular tragedy.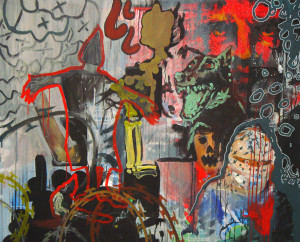 Lopez's work as presented in Tragic Beauty marks a departure from approaching painting as a personal cathartic (as was the case in prior work), and instead empathizes with a removed tragedy that is nonetheless affecting. In the series Same old', Same old' (2004), Lopez appropriates a media image of a young boy's face distorted in an almost tangible anguish. By repeating the image in several canvases, Lopez inundates the viewer again and again with the subject's pain, up close and personal. Rather than desensitize the viewer, which is often the case when images of worldwide suffering are projected ad nauseum on television and in news print, Lopez seeks to assuage the subject's pain, an effort he acknowledges is futile. In keeping with this vein of socio-political commentary, a dark narrative unfolds in the neo-expressionist layers of patterns, forms, and symbols visible in Red Night (2004); with powerful imagery, again recognizable from the media's coverage of current events, Lopez laments society's inability to learn from mistakes of the past.
Linda Warren Gallery is excited to present the aesthetic sensibility, born from innate talent and influenced by life experiences, apparent in the featured work of these two young, talented artists.