Mariano Chavez, "May Flowers"
May 16th – June 20th, 2008
Artist Reception: Friday, May 16th, 6-9 pm
Linda Warren Gallery is proud to present the first solo exhibition of Mariano Chavez's career – "May Flowers." Named most recently as one of Chicago's 2008 "Break Out Artists" by New City's critic Jason Foumberg, Chavez is nothing short of a strong image maker and one who believes that in our current age of mass media bombardment, where one can switch or click from horror to despair to delight in a nanosecond, one must, to grab the viewers attention and get a message across, proffer similar goods. Chavez offers the public his ideas in a form they seem to desire: entertainment — subversively utilizing a style that he in fact actually disdains, cartooning, to posit questions about the certainty of what art should be, present symbols for what he sees are eternal constants of the human condition while mining both a personal quest and universal need to confront beauty and ugliness, demons and delights, fear and pain, in this newest body of work.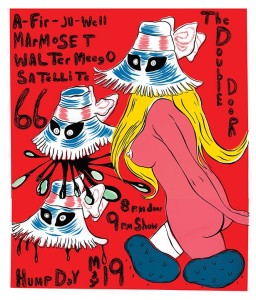 "May Flowers" continues Chavez's investigation of a fantasy world he first created in 2005 while completing his MFA at The School of the Art Institute of Chicago in the self-published book "Troll /Dirty Flowers." His extraordinarily direct and well-written text provided the structure for what was and is an otherwise fairly nonlinear, mysterious and ambiguous tale that spans throughout the history of time and is imbued by a mélange of symbolism which holds this imaginary world he calls"California" together. Such heavyweight sentences as "Way over there is tragedy while way too far to see there is FUN" or "While there is FUN over here sadness lies below" and "This flower was strange because it had the memories of everything in the world" convey the gravity of a place illustrated by generally repulsive, loosely rendered and often hyper-sexually charged drawings. Troll heads, apes, dirty flowers, disgusting breasts, strange caves and orifices, resurface page by page, to conclude with the "Blood Building," or rather the archetypical modernist "orifice" of contemporary times: the office building. Basically, a lot of ugly shit.
Which forces the question then of what is beautiful. Surely breasts are symbols, "things" by which women measure themselves and body parts that are perceived and consumed by others with intention or not, telling something about them, though perhaps unrelated to what they actually say, think or feel. In Chavez's large-scale work, derived from an image culled from the internet while surfing the term "large breasts" emerges the 8″ x 6″ mixed-media piece entitled "The Silver Line". Disturbingly large, elephantine breasts adorned with Chavez's sinister flowers are squished by porn star Wendy Whoppers; her face smeared with a mask of pink paint. This is not just another attempt by Chavez to exaggerate life in order to make it more visible and memorable — this is reality — as well as some people's idea of what constitutes sexy. Do the origins of this relationship to the female form begin for Chavez in "The Painting Lesson" where, in a primitive cave setting dripping with pink stalactites, a goddess-like authority figure squats naked and masked before a circle of young boys teaching them about paint? Both women are symbols of power, imparting information about an aspect of creation. Are these women menacing or menaced?
The Project Space in this exhibition is dedicated to another aspect of Mariano Chavez's art making: his concert promotional art posters. Silk-screened and meticulously hand painted in small editions, this commissioned work has been designed to advertise the rock band "Gil Mantera's Party Dream" (and others). In spite of the painstaking method of hand-producing each work, Chavez relishes in the fact that they are rarely left in public for long, as a cult following of these works rips them from their posted walls before one can blink an eye — or down another shot of triple espresso. At the Gallery, we ask that they remain hanging for the duration of the show.
Mariano Chavez was born in 1974 and received his BFA (2003) and MFA (2005) from the School of the Art Institute of Chicago, where he currently resides. Though this marks his first solo exhibition in a commercial Gallery, his work is in many prestigious private collections and has been exhibited in art fairs, group shows and institutions throughout the area including The National Museum of Mexican Art, The Hyde Park Art Center, Ukrainian Institute of Modern Art, Bucket Rider, Van Harrison, Detroit Artists Market (in "Mike Kelly Selects") and Zolla/Lieberman Galleries among others.