Michael K. Paxton "Alpestrine"
Project Space: Judith Mullen
Curated by Rhonda Bacus
January 9th – February 7th, 2009
Artist Reception: Friday, January 9th, 6-9 pm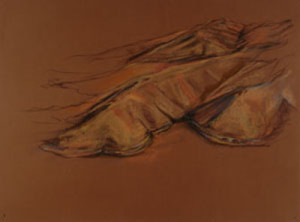 Linda Warren Gallery proudly announces its first solo exhibition with veteran Chicago artist Michael K. Paxton titled "Alpestrine": a botany term meaning "grown at high altitudes or in mountainous regions" – clearly apropos for these large, colorful mixed-media drawings of aerial views of mountains and islands. Continuing his dedication to the act of drawing, this exhibition marks a new chapter in Paxton's extensive body of work that spans over three decades.
The path leading to this new work has been a long and arduous one for Paxton – a native of West Virginia, who began sketching the series on a recent trip to a very small village named Limnionas on the island of Samos, Greece (at the foot of Mount Kerketefs, the second largest peak in the Aegean). Transfixed by the experience of exploring, hiking and living with this looming, ever changing, giant of a rock mass with the effects of the light of the Aegean upon it, Paxton's return to Chicago found him contemplating and reflecting upon what to do with this overwhelming experience. He couldn't help but make the correlation between those mountains and the mountains of West Virginia:  the inherent destruction resulting from mountain top removal as a result of the lust for coal and what it has done to the state; his battles with health issues; his journey as a visual and performance artist since 1974.  On a more personal level, we can all relate to the ups and downs, depths and heights that the ongoing climb up our allegorical mountain has been and is about — the act of aging, approaching middle-age and wondering how much more is really left.  For Paxton, the work didn't really gel and advance until all these random ideas took a back seat and he began letting each mountain find its own space. No longer was the work about there, but about here and now, and these big drawings became an island of mountains of their own making.
Paxton typically works on a very large scale; the largest drawing in the show ("Full Mountain") being 5' x 12', to build upon his desire to have a drawing be a place instead of a thing – to envelop and draw the viewer in, to investigate our perception of real space.  He begins by preparing raw canvas to make it more porous and then, with chalk and watered-down gesso and acrylic, works up the surface by soaking the media into the material. Thus, the method of drawing and the quality of chalk line remains intact, but the durability of the canvas gives way to a richer working process to blur the line between drawing and painting. In a way it is much more a watercolor technique and feel, with no thick layering of media.
Michael K. Paxton received his MFA from the University of Georgia in 1979.  He has been showing his work since 1974, teaching since 1978, and is currently an adjunct instructor in Fine Art, Art & Design at Columbia College.  His solo show "From Enoch to Strange Creek" traveled from the Chicago Cultural Center to the Miami University Art Museum in Oxford, OH, West Virginia University in Morgantown, WV, and the Stifel Fine Arts Center in Wheeling, WV from 2000-2003.  Paxton received many grants and awards through the years, including the Adolph and Esther Gottlieb Foundation and the Illinois Arts Council.  His work has been commissioned for and collected by many private and corporate institutions all over the country.
Project Space: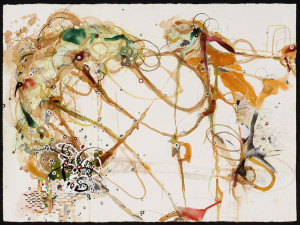 The journey continues in the Project Space with Judith Mullen's "mental maps" brought to life in her colorful, complex and highly evocative paintings.  Referencing ancient cave drawings and frescoes, Mullen, a graduate of the School of the Art Institute of Chicago, mixes in iconic imagery such as road signs, graffiti and cityscapes to marry contemporary imagery with primitive mark making.  Recent sculptures have evolved out of the painting process using the imagery of the tree to speak to the universal idea of shelter, mobility, and our constant struggle to seamlessly merge our natural world with the man-made.