Michelle Wasson: Out of Xanadu
Friday, April 28th thru Friday, May 26th 2006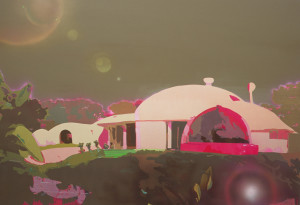 Linda Warren Gallery is pleased to announce the opening of Out of Xanadu, Michelle Wasson's first solo exhibition at the gallery. Using both the language and aesthetic of graphic animation and digital design, Wasson takes us on a journey through a cyberparadise where utopic dwellings and images of mother nature bubble with polychromatic, hallucinatory appeal. In cahoots with Wasson's own personal quest to understand the psychology behind the "off the grid" lifestyle are her laborious painting techniques. Images, dutifully conceived in Photoshop are translated in acrylic paint to evoke the infra-thin, groomed territory of the digital. In this manner the form of her work mimics the content, made especially clear in the paintings "Xanadu" and "Rizadu" where the artist preserves the form of Xanadu: The House of the Future at the center of sanguine fantasy landscapes. These visionary model homes designed by Architect Roy Mason in the early 1980's were constructed of polyurethane insulation foam and outfitted with high-tech gadgets and computers intended to control every aspect of domestic life. However, technology developed at a much quicker pace than their creator imagined and the three Xanadu show homes, located in U.S tourist destinations, were deemed obsolete uberkitch and demolished.
Do Wasson's works reference the demise of digital technology's influence on Painting? Are they premonitions that Painting itself is outmoded? …Or are they a fresh form of virtual fantasy /reality unfolding as in Kubla Khan by English poet Samuel Taylor Coleridge:
"In Xanadu did Kubla Khan
A stately pleasure-dome decree:
Where Alph, the sacred river, ran
Through caverns measureless to man
Down to a sunless sea…
And there were gardens bright with sinuous rills,
Where blossomed many an incense-bearing tree;
And here were forests ancient as the hills,
Enfolding sunny spots of greenery…" *
We invite you to make your escape to Out of Xanadu and imagine for yourself.
* Kublai Khan (1816) by Samuel Taylor Coleridge – the first known mention of Xanadu, the summer retreat/paradise for the Mongol emperor Kublai Khan, to the West.