Nicole Gordon "SALIGIA"
April 3rd – May 9th, 2009
Artist Reception: Friday, April 3rd, 6-9 pm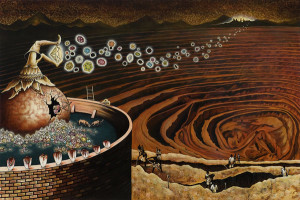 Nicole Gordon's first solo exhibition at Linda Warren Gallery depicts the ways in which the seven deadly sins have driven mankind to forsake the environment. Each piece explores consumer demand for excess and industry's willingness to supply it, often despite negative consequences on the natural world.
The work of 16th century artist Pieter Bruegel is the catalyst and inspirational springboard of Gordon's contemporary interpretation of the seven deadly sins. SALIGIA is a 14th century mnemonic device that uses the first letters of the sins in Latin, which are Superbia (pride), Avaritia (greed), Luxuria (lust), Invidia (envy), Gula (gluttony), Ira (anger), and Acedia (sloth). Gordon's eight drawings and eight paintings juxtapose imagery from Bruegel with imagery from contemporary society to illustrate the consistency of the flaws and weaknesses of the human condition throughout history.
In Gordon's "Living Under Sodom's Terrain" (LUST), men dressed in toxic protective gear dig up radiating barrels of toxic waste. These barrels, known as Leaking Underground Storage Tanks by today's environmentalists, give the piece its name. In the work "Even Now Vegas Yearns" (ENVY), we encounter laborers in an open-pit mine struggling to unearth gemstones and diamonds which are ultimately unattainable to them. An eighth work, "The Culmination," combines all of the sins as they crescendo into war.
Gordon's work, through her phenomenal workmanship, sensitivity to color and rhythmic organization of forms engages the viewer in a cautious tale as it reflects both the hope and the possibility for change.
We are proud to be representing Chicago artist, Nicole Gordon, who received her BFA from the University of Michigan in 1998. She has been showing in numerous galleries throughout the years, including a recent solo exhibit at the Elmhurst Art Museum. She has completed public art projects for the CTA, sponsored by the Chicago Public Art Group and New England Biolabs, in Ipswich, MA. She also has an upcoming solo exhibition at the Chicago Cultural Center in July 2009.