Nina Rizzo: Majestic!
April 9th – May 8th, 2010
Opening reception Friday, April 9th, 6-9 pm
Project Space: Michelle Wasson: Recent Work
Presented In "Majestic", Nina Rizzo's first solo exhibition at the gallery, is a body of juicy and aggressive paintings which marry Rizzo's intense painterly concerns with her attraction and awe for the natural world and its wondrous forms. Fluid brushstrokes, invariably dense and short, intermix with both tight and goopy mark-making while bold and dazzling color combinations, like the subject matter itself, are prone to dramatic, inventive and at times, playful, twists and turns. Like a fearless whirling dervish of surety and well-practiced spontaneity, Rizzo uses the myriad forms of her investigation and inspiration – icebergs, tar-pits, salt caves, rocks, plants, trees and logs, to further her investigation of spatial experience.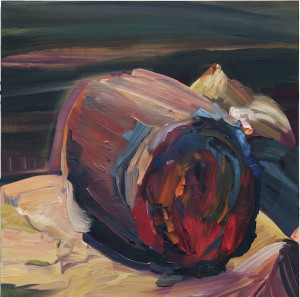 So expressive and confident is Rizzo's application of paint, it is no surprise that her own quick wit and humor find their way to the surface as well, merging seemingly random and disparate elements into one image. Both intriguing, amusing, and in this day and age, entirely visually plausible pieces such as "Cactus Pile Goes on a Picnic" or "Toothball" or "Mineshaft Chandelier" amongst others remind one of the spectacular aspects of the universe we inhabit and the endless possibilities of our imagination. All extremely active and energized, the representational elements in Rizzo's oil work anchor the viewer into reality enough, so that the undeniable exhilaration – the "wow" factor – comes from experiencing the gestural materiality and illusionary qualities interplaying on the 2-dimensional surfaces of her creations. Rizzo's passion for both the "majestic" and the banal translate into inspirational painting, as engaging and infiltrating, with as much presence and resonance as the melting icebergs of the arctic.
Nina Rizzo received her BFA in 1997 from the University of Illinois at Urbana –Champaign and her MFA in 2004 at The University of Texas at Austin, where she later went on to teach. In 2006 she became an Assistant Professor at the School of Art at Northern Illinois University in DeKalb. Her work has been shown both here and abroad and can be found in several prestigious collections, including a very recent acquisition by Bank of Montreal/Harris Bank in Chicago. Though this marks Rizzo's first solo exhibition at the gallery she has appeared in several group shows at the gallery as well as two exhibitions in the Project Space – one of which displayed collaborative drawings created with another gallery artist, Michelle Wasson, who this time takes over the Project Space.
Wasson and Rizzo have artistically collaborated since they were studio mates in undergrad.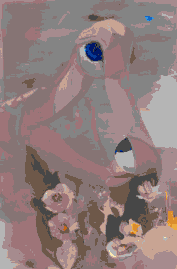 In Michelle Wasson's last solo exhibition in the gallery (2006) entitled "Out of Xanadu", the artist used the tools, language and aesthetic of graphic animation and digital design to painstakingly take us on a journey through cyber-paradise where utopic dwellings and images of Mother nature bubbled with polychromatic and hallucinatory appeal. While ideas of utopia and transcendence are still evident in the new work on display – quasi-portraits, stilllives, abstractions and intimate collage pieces – Wasson has liberated herself from the grueling dictates of her meticulous rendering practice, and now creates with a more intuitive and far looser process. Utilizing softer color palette, the new paintings are meditations on the practice of painting, referencing a variety of sources, from Odilon Redon to Wasson's mentors and contemporaries. Her collage work, while formally restrained and minimal, is both odd and humorous and unambiguously related to what manifests in paint, as is apparent in such pieces as "The Pieta" and "The Amir".
Michelle Wasson received her BFA in 1996 from University of Illinois at Champaign-Urbana and her MFA in 2001 from Washington University in St. Louis Missouri. She has been exhibiting throughout the United States since and currently maintains her studio practice in Chicago. Wasson has been teaching at Columbia College Chicago since 2005.