Paula Henderson: "Decoys and Wheels of Fortune"
Project Space: Chuck Walker
May 15th – June 20th, 2009
Artist Reception: Friday, May 15th, 6-9 pm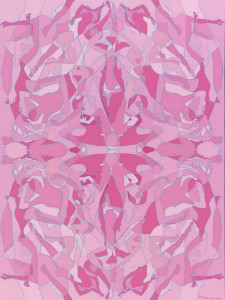 In her fourth solo exhibition at the gallery, "Decoys and Wheels of Fortune," Paula Henderson continues to direct our thoughts toward the contemporary social landscape. The new work deftly belongs to a body of work she calls "Social Fabric" – whereby decorative pattern-making and cultural symbols are reconfigured in drawings and paintings to mimic a form of textile – whether toile or kente cloth or paisleys. From the choice of cloth to the choice of each color in each piece, as well as the titles she selects for each of the works, Henderson is deliberate and specific in directing the dialogue toward a broad range of ideas related to various societal paradigms including:  identity, sexuality, femininity, masculinity, superficiality, artificiality, status, success, idealism, illusion, concealment, limitations, race, enticement, desire, production and manufacturing.
Henderson begins her process by tracing shapes from various media sources – fashion magazines for the female model's long sexy legs and 4″ heels, to newspapers for the graceful athletic bodies. She then patterns them into often dizzying and dazzling arrangements, which suggest the media's activity of inundating and bombarding certain ideas with enticing imagery that both perpetuate and form the way we think and behave. Interestingly, this technique traces back to Henderson's personal upbringing, having learned sewing skills and a love for fashion and decor from her mother (who was a successful fashion illustrator), and her father (who was an interior designer). How she was "formed" is related to her own productivity, just as how we all are formed is central to looking at this work.
The newest addition to this ongoing and evolving series Henderson titles "Great Expectations." They expand on the "Ballpark Figures" series by using the contours of images of male athletes and female models to focus on the agency of the media in shaping social notions of ideal masculinity and femininity. Boys desire sports while girls desire all the goodies that make them sexy and attractive. But to whom? For themselves or for the benefit of others? Are they being lured or are they lures themselves? In "Collide-A-Scope/The Bluest Eye," Henderson uses pale pinks to present a fragmented female form in a kaleidoscopic pattern. Female models take shape around a central pale blue (male) eye. The work and its title suggest the shallowness and conflicts surrounding the "I" of Identity and women's capitulation to male desire.
In the oil painting "Broad Casting," the ballplayers on the periphery simultaneously want "in" to the near-impossible goal of entrance into the exclusive network of professional sports and get "sucked in" by all that it supposedly attracts. Seemingly devoid of identity till they become part of the "program" – once inside the network, they become men – blue (enlightened and divine) and green (young and wealthy) flowery and flourishing specimens, floating high above their fans – elevated like angels on the ceiling of what could be interpreted as Michelangelo's Sistine chapel.
The Renaissance, a period of tremendous social upheaval and revolution and more so, an attempt by intellectuals to study and improve the secular world, is interestingly referenced again in the piece "Wheel of Fortune II," where Leonardo da Vinci's Vitruvian man, a symbol of balance, symmetry and reason, shifts into an out of balance, multi-racial shifting figure as it addresses contemporary concerns of birthplace, status and right. The multiplication of the Vitruvian figure in the circle resembles spinners on a wheel, which ties into the idea of the development of the highways that you see playfully referenced in the square and in suburban development that followed, which Henderson references in the cul de sacs and in the images of the old urban neighborhoods that sprawl left behind. This piece, part of the "Domestic Balance" series within the larger body of "Social Fabric" work is inspired by the texts of ancient codices.
Paula Henderson received her BFA from the University of Massachusetts in 1972 and her MFA from the University of Chicago in 2004. Most recently she had a solo exhibition in Chicago's Museum of Contemporary Art UBS 12 x 12, and her drawings were recently selected to be included in the Drawing Center in New York's curated Artist Registry. She has exhibited extensively in Boston, Atlanta and Chicago and her work is incorporated into numerous private and public collections.
Project Space:
In the Project Space, don't miss a salon of never-before seen drawings by long-time Chicago artist Chuck Walker. Walker attended the School of the Art Institute of Chicago from 1969-73. His work has been exhibited at numerous venues, including the Rockford Art Museum (1997), Hyde Park Art Center (1994), Chicago Cultural Center (1992), Chicago Botanic Garden (1990), Museum of Contemporary Art (Chicago) (1989), Contemporary Center for Art (St. Louis) (1988), Evanston Art Center (1988), and Artspace (San Francisco) (1987).  In 2008, a retrospective of his work was held at the Hyde Park Art Center.  His work is included in various private and public collections, such as the Museum of Contemporary Art (Chicago) and Tampa Museum of Art. Walker's work has been discussed and reviewed in Art News, New Art Examiner, Chicago Tribune, Chicago Sun-Times, and Art in America.