Paula Henderson: Schematic Patterns
February 25–April 2, 2005
Opening Reception: Friday February 25, 6-9pm
Linda Warren Gallery is proud to present SCHEMATIC PATTERNS, a solo exhibition of local artist Paula Henderson's most recent work. In colorful, carefully rendered works on paper, canvas and wood, Henderson re-creates diagrams, from sports arena complexes to familiar Chicago neighborhood maps. By decoratively disclosing or re-deploying that which she believes many plans and charts work to camouflage, Henderson meditates on the consciousness of various social systems and structures and the conditions they perpetuate.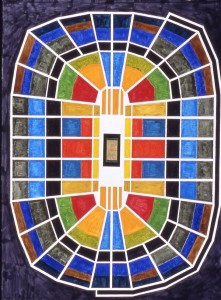 In The Re-Mix drawing series (2003-–2005), Henderson rearranges Chicago neighborhoods and select suburbs into a loosely alphabetical model; Garfield Park ends up sandwiched by Glencoe and the now landlocked Gold Coast. The prospect of economic and educational advantages traversing presently segregated races, classes and ethnicities drips along with the watercolor grid lines. Contemplating the possibilities such geographic change could prompt, Henderson explores a function of mapping in which proximity becomes an opportunity for meaningful cultural exchange.
Brightly hued geometric works on canvas resembling sports arena seating charts make up Henderson's Mandala series (2004). Used in both Hinduism and Buddhism and loosely defined as ritualistic geometric designs symbolic of the universe, the mandala is applied as an aid to meditation as well as determining floor-plans from which complex southeast Asian temples rise. By using such a sacred form to address the very secular world of professional sports, Henderson attempts to keep 'in play' what we know and accept about the business of games, bringing up issues of spectatorship in light of social disparities of race and class.
In a similar fashion, Henderson's contemporary urban take on popular 18th century French toile prints in the Toile: Domestic Balance series (2004) endeavors to redirect the viewer's attention from that which is taken for granted (like something so banal as street crossing signs), to what can be recognized once isolated (i.e. where one might see such signs and what they denote at large or in the specific viewer's mind). Typical toile motifs narrate stories of rural life, historical events, and the like; however, Henderson restructures the predominantly decorative pattern. Scenes of complacent pastoral enjoyment are replaced by white and black figures engaged in a precarious yet fixed balancing act, set against a looming monumental cityscape. As Henderson states, "In these works, images are so loaded with social significance that to construct meaning is to take a position that serves to connect the viewer with the welfare of the social order."
Henderson is lead artist in the painting program and the PROJECT ONWARD program for young adults at Gallery 37, where she has taught since 1994. She obtained her BFA from the University of Massachusetts in 1972 and last year received her MFA from the University of Chicago, where she recently concluded a teaching fellowship. Henderson has exhibited extensively in Boston, Atlanta and Chicago and her work is incorporated into numerous private and public collections.