Paula Henderson- Social Fabric: Ball Park Figures
Project Room: Social Fabric: Domestic Balance
April 6th – May 12th, 2007
Opening Reception Friday: April 6th, 6-9 pm
Linda Warren Gallery is proud to present SOCIAL FABRIC: BALL PARK FIGURES a solo exhibition of paintings and drawings by Paula Henderson. Furthering her artistic strategy to reshape the status quo Henderson examines our assumptions of race, class and disparity and the manners in which our social landscape becomes shaped and fixed in our consciousness. By focusing on the culturally loaded world of professional sports – be it as spectator or participant, Henderson brings to the foreground the subject of race: to question how race works and the work race does.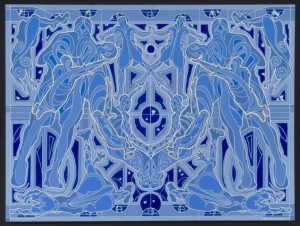 Within the series entitled "Schematics" with such paintings as "Border Patrol" and "Enter-prize" the relationship between the world of professional sports and the high school player is explored. Henderson uses the basketball court to create alluring designs which tell the story of the scouting and enticement of youth as well as the illusory American dream of breaking into the big league. And what more does that mean?
Those that "make it" are explored in the series "Ball Park Figures," a new motif introduced in this recent body of work which exposes the idealized and idolized, commercialized, commodified, nearly dehumanized iconic, sports "figure." After tracing sports figures and their body parts from the daily barrage of media newspaper coverage, Henderson rearranges them into paisley-like, captivating patterns that seem to stimulate with their own inner movement, offering multiple readings of the compositions which include the disappearance of the individual into the packaging of the game and the notions of inclusion, emulation and adoration.
The exhibit continues into the project space with another body of Henderson's work entitled "Social Fabric: Domestic Balance." Within this framework Henderson "remixes" maps of the cities of Chicago, Los Angeles, and New York City, relocating and arranging neighborhoods in a loosely alphabetical model. Segregation by race, class, ethnicity is dismantled and reoriented to allow for greater proximity and access to one another. These redrawn borders allow for a greater and more meaningful cultural exchange, as well as economic and social advantage.
Henderson's repeated use of patterning, throughout all the series, including the maps on display, direct our attention to the concept of how ideas get delivered and become anchored and established in our perceptions.
Paula Henderson received her BFA from the University of Massachusetts in 1972 and her MFA from the University of Chicago in 2004. She has exhibited extensively in Boston, Atlanta and Chicago and her work is incorporated into numerous private and public collections. She has been the recipient of many awards and fellowship. This marks her third solo exhibition at the gallery.