Peter Drake "All the King's Horses"
Project Space: Jon Waldo
Curated by Rhonda Bacus
February 13th – March 27th, 2009
Artist Reception: Friday, February 13th, 6-9 pm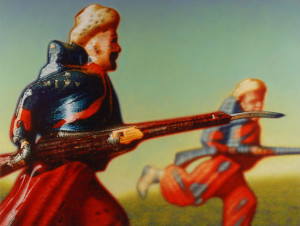 Linda Warren Gallery is proud to announce the opening of Peter Drake's third solo exhibition at the gallery -"All the King's Horses's – a title that calls to mind Humpty Dumpty who sat on a wall, had great fall and couldn't be put back together again. Why we visualize Humpty Dumpty as an innocent egg versus other historical citings (a cannon, king, or castle tower) seems mainly a matter of its repetition and persuasion. Benign enough in the context of this innocuous nursery rhyme one knows how easily visual illustrations and representations of an idea can metastasize into evil, even deadly forms of cultural indoctrination – depending on the context and subtext of its usage. These ideas are central to understanding the inspiration and creation of Drake's newest body of work that arose when he inherited of a large collection of lead toys assembled during the course of his father's life. Many of these objects, created ostensibly for little boys to play war with, were depictions of Arab and North African soldiers – Zouaves, Saracens, Mamaluks and Ottoman Turks. Not a far stretch given our current political struggles that this struck Drake as perhaps no coincidence that these decades worth of molded images, in turn, subliminally molded, or were attempting to mold thousands of children toward the idea that these cultures are the enemy combatant. Those who cannot remember the past are destined to repeat it. – George Santayana
Using dazzling, alluring color and meticulous painting, the larger than life figures placed in metaphorically loaded environments act out a range of narratives and preside confrontationally over the viewer, thereby switching the dynamic of a play toy to a Godzillian idea – the power of image to subversively manipulate with innocence or beauty an entire society's way of thinking. Another exciting aspect of the blow-ups is the ways in which the figures become distorted. Hands and feet are mangled and the pockmarks of missing paint look like shrapnel wounds. Faces that seem acceptable as miniatures become grotesques when enlarged, swords become chainsaws, and rifles become candy canes. What is serious appears absurd and the innocent becomes morbid. Riflemen teetering on their wobbly stands seem to speak to political instability and the entire project takes on the feeling of some horrific déjà vu. It is frightening to think that so much animosity could be embedded in a child's toy.
Further breathing life into the same toy soldiers are the animation pieces on display, a medium new to Drake's oeuvre and extraordinarily fitting. With combinations of stop motion, live action and digital effects Drake places the toys in settings that are both familiar and unexpected with the hopes of highlighting some of the consequences of the history of conflict epitomized by these lead toys. Severed heads roll across barren stages, mutant horsemen gallop in slow motion down Manhattan streets, political buzzwords dribble out of flaccid guns.  Drake states that this is not a critique of any one conflict but rather a reflection of a military adventurism that has marked the history of the world.
Peter Drake has been exhibiting extensively for almost thirty years throughout the US and Europe. His works are included in numerous prestigious private collections as well as the collections of the Whitney Museum, the Phoenix Museum of Art, Museum of Contemporary Art, L.A., the Achenbach Collection and the L.A. County Art Museum. Individual paintings have been exhibited recently at the Mobile Museum of Art, ASU Art Museum and the Katonah Museum of Art and numerous articles and reviews have appeared in Art in America, Art New England, Flash Art, Interview Magazine, The New York Times, Art & Antiques, and Time Out.  He has been the recipient of numerous grants and awards, including a 2006 fellowship in painting from the New York Foundation for the Arts and a National Endowment for the Arts award.  Drake lives and works in Manhattan.
Project Space: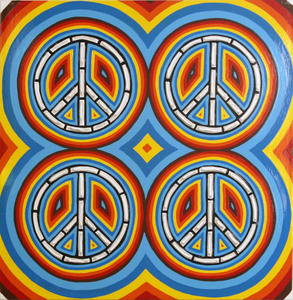 Exhibiting in the Project Space is another well-known New Yorker, Jon Waldo, an ex-punk rocker who rose to celebrity status in the 80's music scene. Waldo's love and respect for American folk art and its craftsmanship mix with his music background and personal experience to create powerful new work, which beckon like neon signs from a yesteryear. Poignantly nostalgic, positively psychedelic, his mundane subjects are delivered with a purposefully straightforward intensity. Created with handmade stencils, picture symbols of houses, cars, boats, dogs, nags, stags, campers, busses, vans and Chevys, mix with other random pop imagery of peace signs, marijuana leaves, Mr. Magoo, Pinocchio, and the number 68 (amongst others). Oozed onto the canvas are thick, low-relief lines covered in shiny, brightly hued enamel. Senses are aroused of taste, touch and smell, so sweet, rich and gooey are their surfaces – that the longing of the decadent pleasures of that era now seem innocent in retrospect. These images are triggers for memories whose connections to narrative are changed by time. Waldo received his BFA at Pratt and has exhibited at such venues as PS 122 Gallery, The Glyndor Gallery at Wave Hill, The LeRoy Neiman Gallery at Columbia University in New York and recently in "The Paint Show" curated by Eileen Doster with a text by Carlo McCormick at La Mama La Galleria which featured ten seminal artists active in the phenomenal and highly influential East Village art scene of the 1980s. Waldo's work has appeared in The New York Times, Art & Antiques, and Elle Decor. He has appeared in numerous group exhibitions here at the gallery.