Peter Drake: Cul de Sac
Opens: Friday, November 4th thru Saturday, January 7th
Preview Opening: Friday, November 4th 5 – 8pm
Reception for artist: Saturday, November 5th 6-9pm
Linda Warren Gallery is proud to present Peter Drake's solo exhibition – Cul de Sac – a formal march into the land of suburbia – where ideals of perfection, nostalgic notions, exaggerated realities and incongruous absurdities abound. Drake's formal playground is the "good ol' times" era of Post WWII through the start of Watergate, a period loaded with imagery both aesthetically appealing and emotionally complex that moreover points to a perceived normalcy in American life. Recreating its best and worst, juxtaposing disparate elements one against the other, dramas unfold in these orderly worlds of human habitation, both ironically and naturally, and expose a range of human behavior that is often the most outwardly repressed – anxiety, aggression, competition, loneliness and fear; a concentrated example of extremes living in close proximity from one another that create an almost claustrophobic breeding ground for instability and chaos.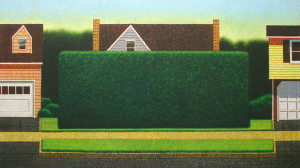 Interestingly, the term cul de sac originated as a military term used to define a situation when an enemy has been surrounded on all sides with no way out. Drake points to the parallels and similarities evident between these two seemingly disparate and segregrated cultures. Using his own subversive methods, in a most neighborly and friendly manner, Drake lures the viewer into his works by employing his cache of artistic weaponry: bombardment of seductive color, masterly paint skills, irony, humor, intelligence and disarming accessibility. He then delivers covert and multilayered meanings without the snobbery associated with such work.
In the piece entitled Sentinel, the viewer may simply enjoy the mesmerizing green lusciousness of the meticulously groomed lawn or he/she may proceed beyond its superficial glory to ponder the vigilance of the miniaturized man obliviously spraying poisonous pesticides upon it for protection. A free range of experiences and interpretations are allowed in a world full of regiment, order, and rules – all which seemingly must be obeyed to maintain convention and stay within the ranks of accepted norm.
In "Bulwark," the neighbor next door has either consciously/unconsciously grown his hedge so high it effectively becomes both a barricade and a slap in the face to togetherness and community. Strangely the inoculation of humor into seemingly irrational compositions allows life to go on with non-confrontational, light-hearted absurdity and posit whether the wounds of knowledge are just as great as the imparity that comes with being blissfully unknowing. We invite you to take a position.
Peter Drake has shown extensively throughout the United States and Europe. He is in numerous private collections as well as many public collections including the Whitney Museum of American Art, the Museum of Contemporary Art in Los Angeles and the LA County Museum. This marks his second solo exhibition in 2005 and his first solo at the Linda Warren Gallery.