Gallery Y & Gallery X: Philip J Capuano, "Cosmic Current"
February 20, 2015 – April 11, 2015
Opening Reception: Friday, February 20, 2015, 6-9pm
Artist Talk and Film Screening: Saturday, March 21, 2015, 3-5pm
---
Linda Warren Projects is pleased to present gallery artist Philip J Capuano's "Cosmic Current," part one of a 40-year retrospective exhibition. Hailing originally from the East Coast, the sculptor, ceramicist and filmmaker has been living and working in Chicago for decades, earning his MFA from the School of the Art Institute of Chicago during the local art scene's 1970s heyday. His astonishingly consistent and prolific practice merges functional and sculptural ceramics with found objects. Capuano's affinity for the tchotchkes and vernacular ephemera of the world around him imbues his work with an "outsider" kind of aesthetic, though the "intuitive" nature of his pieces is balanced with highly trained, impeccable technique. The multimedia works in "Cosmic Current" illustrate a range of content that the artist holds dear: the world of athletics, natural law, and a profound understanding of philosophy and astrology.
In "Cosmic Current," the artist's first solo exhibition with the gallery, both Gallery Y and Gallery X have been dedicated to a selection of work from the 1970s to today. Craftsmanship figures prominently in Capuano's practice, as the artist was integrating elements of traditional ceramics into fine art dialogues long before efforts to engage with "craft" became widespread in the contemporary art world. During the mid- to late '70s, Capuano made a habit of escaping the highly technical and intellectual curriculum of the graduate filmmaking department at SAIC to comb thrift stores, junk shops and the famous Maxwell Street Market for cheap objects and materials to incorporate into his sculptural works. It was through these rummaging trips that the trophy came to be a significant and recurrent element in Capuano's work. Initially drawn to the objects as an inexpensive source of hardwood, metal studs, and nuts and bolts that he could extract and reuse in his sculptures, the artist also saw in the trophies a way to instill in his art practice his passion for athletics. Whilst pursuing his artistic career, Capuano, at various points in his life, was also a competitive weightlifter and bowler, as well as a semi-pro baseball player –he got as far as a callback when trying out as a pitcher for the Chicago White Sox at age 31.
A true visionary artist, Capuano has always been artistically guided and influenced by his life experiences, diaries and dreams. Sculptures and two-dimensional works in "Cosmic Currents" reference various prophetic dreams foreshadowing real life events; each piece embodies a specific narrative, from poignant, personal episodes to events that have impacted world history. In addition to his other many talents, Capuano is also a dedicated, professional astrologer, and often his titles, like Space Vase and Mercury's Message, are reflective of his spirituality. It is Capuano's personal and professional belief that humans are a reflection of the universe, and everything that composes us, composes it as well. For Capuano, the universe possesses an ego just like the one inside each of us, and in the same way that we require recognition for our accomplishments, the universe too is in need of our praise for its wonders. Works throughout this exhibition are proof of the artist's lifelong dedication to doing just that.
A retrospective of Capuano's oeuvre would not be complete without due attention paid to his work as a filmmaker. As a grad student at SAIC, Capuano studied under experimental film luminaries like Stan Brakhage, and has created 35 short 8mm & 16mm films over the course of his career. Digital versions of several of Capuano's films will be playing on a loop throughout the exhibition's duration, and an official screening of three films in their original formats will be held during the artist talk on March 21, 2015. The three selected films feature imagery of the artist's early West Virginia studio, the 1989 fire that destroyed Chicago's River North gallery district, and a frenzied, inside look into the world of competitive bodybuilding.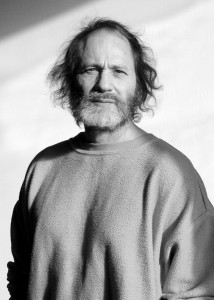 Philip J Capuano is a Chicago-based artist with a long exhibition history that includes venues such as Nostalgia Gallery and Reed Street Gallery in Baltimore, MD; Slusser Gallery at the University of Michigan in Ann Arbor; Gallery Merz in Sag Harbor, NY; Carrie Haddad Gallery in Hudson, NY; and Name Gallery, Struve Gallery, Bridgeport Cultural Center and Beverly Arts Center in Chicago. Capuano's films have been screened at the Art Institute of Chicago and the Ann Arbor Film Festival, the latter presenting the artist with an award in 1977. Capuano has also been the recipient of an Illinois Arts Council Grant. The artist received an Associate of Fine Art at Silvermine College of Art in Silvermine-Ridgefield, CT in 1969, a BFA from Maryland Institute College of Art in 1972, and an MFA from the School of the Art Institute of Chicago in 1978. This is Capuano's first exhibition with Linda Warren Projects.