Ruijun Shen: "A Fire Which Burns"
Project Space: Academy Records
January 11th – February 16th 2008
Opening reception Friday, January 11th, 6-9 pm
Linda Warren Gallery is proud to open the New Year with "A Fire Which Burns" – a solo exhibition of work by a very promising young artist, Ruijun Shen.  In this new series of paintings, drawings, animation and installation Shen continues to demonstrate a strong inclination toward combining traditional Chinese painting methods and style (learned at a very young age from her well-known artist father) with her experiences from Western culture (where she has earned two MFA's, most recently in 2007 at the School of the Art Institute of Chicago).  Purposefully allowing the influence of these two technically, and in many respects, opposing cultural locations to enjoy free reign within her work, the universality of their emotional and spiritual components are more ascertained.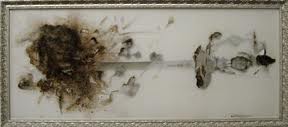 Using a predominately muted  "shades of gray" palette, as well as multiple drawing and painting techniques which contort and distort information and imagery, Shen exposes the complexities of her subject matter – themes of love, pain, change, growth, transformation, beauty, ugliness, construction, destruction, sexuality, innocence, purity, evil and perhaps, moreover, the absoluteness of the concept of ambiguity. Her paintings operate mysteriously and sensually creating the urge to touch and probe. The decision to frame some of the pieces is based on a need to protect them – leave them less bare and exposed.  They also relate to Shen's intrigue with all ornate vestiges of ancient and classical times: silver and gold plated mirrors, goblets, swords, ornamental clothing worn by kings and queens. These objects greatly inform her work as does nature, flowers and trees; mutations of all the aforementioned are present in various forms and appear to be in a constant state of flux.
The dualities which permeate Shen's work, both conceptually and visually, actualize the notion of yin and yang or the unity of opposites. Peculiar and beautiful, dynamic and static, fragile and strong, the viewer becomes seduced by both the unknown and familiar.  Quiet though demanding, the work controls these contradictions successfully, precipitating a desire to discover and understand, but evading all simple or singular conclusions.
Ruijun Shen was born and raised in Guangzhou, China where she completed her BA in painting at Guangzhou Academy of Fine Arts.  She received her first MFA in 2004 in painting at Montclair State University in New Jersey and her second MFA in 2007 at the School of the Art Institute of Chicago.  She has most recently had solo exhibitions in both New York City and Washington, DC and has been the recipient of many prestigious awards and fellowships, including the Joan Mitchell award and the Toby Devan Lewis Fellowship.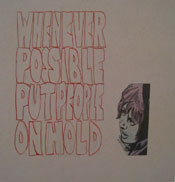 In the Project Room – Academy Records will be presenting images generated from past performances and broadcasts, as well as new schematics and drawings on paper that direct attention toward surface and pattern, absurdity versus sensibility, and typography and layout.
Academy Records is a co-operative endeavor between Steve Lacy and a consistently revolving group of visual artists, musicians, and writers. Academy Records productions, which include vinyl records, videos, installations, films, CD's, publications, concerts, performances, and exhibitions, are based around the idea of system-specificity.  They use this concentration on systematic structures to draw attention to vernacular gestures and historical motifs (or moments) through a highly personalized set of connections.  Emphasizing the systems behind vernacular gesture (aesthetics) and historical motifs (context) is a way to develop what they call resident form: a product from recognizing the manner in which location, process, and context develop personal systems.