Somewhere, Elsewhere: Eric Esper, Shay Kun, Judy Natal, Joseph Noderer, Nina Rizzo, Zach Taylor, Douglas Walker, Matthew Woodward
Project Space: William Eckhardt Kohler
December 5th 2008 – January 3rd, 2009
Artist Reception: Friday, December 5th, 6-9 pm
Man's interaction with his natural surroundings continues to inform and compel fascinating and fresh contemporary artworks. The eight artists on display in "Somewhere, Elsewhere" all depart from similar starting points – inspiration and utilization of the landscape and its myriad forms – to address a range of ideas and emotions. Within the confines of the gallery walls, viewers are able to journey and explore such places as the geothermal mines of Iceland, Old Faithful in Yellowstone, Jonestown in Guyana, the Davidian complex in Waco, Texas, the Biosphere in Arizona, the flooded fields of Indiana, the barren brush of Los Angeles, the edified streets of New York and Chicago, salt mines in Poland, and the suffocating heat and humidity of South Carolina. These places, and others, honed through the lenses, interpretations, intents and techniques of these artists, have become something else entirely.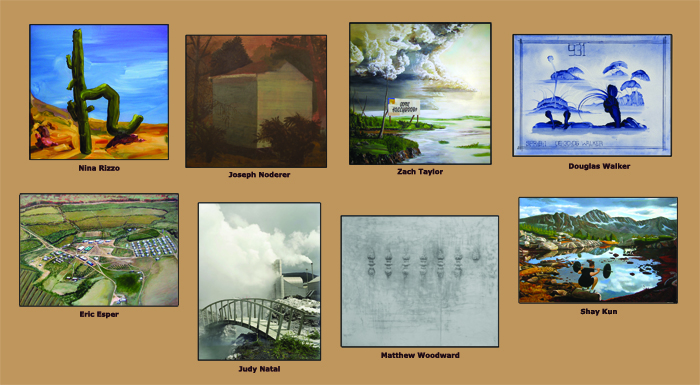 Formally, Shay Kun and Zach Taylor are in direct dialogue with the great romantic traditions of the Hudson River School genre, rendering meticulous landscape paintings that veer between realism, hyperrealism and surrealism, picturing nature as a beautiful, idealized, grandiose and sublime force.  While Kun develops his environments first on computer before moving to canvas, Taylor works straight from imagination and memory, combining elements from his hometown in Indiana with elements of his current home in Los Angeles.  The resultant pictorial spaces, interrupted by such add-ons as stray baggage, broken billboards and hot air balloons, read as mental arenas, transforming the natural world's objects – trees, mountains, rivers, couds, sky – into symbols that suggest deeper psychological states and multiple layers of meaning.
Evoking a similar read are Joseph Noderer's more representational works. Relying on direct observation and employing a range of senses, Noderer recalls and synthesizes information through the aid of photography to recreate landscapes that are bold in their simplicity and strong on mood. Full moons and darkness dominate in his newest paintings and project unto the quintessential structures of the landscape a very specific and subjectified view of what could be best described as poetic inscape.
Nina Rizzo mines the natural wealth of the landscape for forms that totter the fine line between abstraction and representation.  Believing that all reality is a construct of the mind and that our perception and understanding of places is in many ways determined by a prior collection of internal experiences, Rizzo utilizes a style of painting – loose marks and dripping paint  – to create new spaces that play with the illusions and concerns of formulating an image on a 2-dimensional painting surface.  The flatness and static of the picture plane activate organic shapes to recreate both a new reality and another type of illusion.
Eric Esper typically paints from direct observation enjoying in particular the plein air tradition and the peace and solitude that comes from sitting on city rooftops or in deserted train yards. A self-described American Realist, Esper is drawn to places that mark a piece of American history. His current work involves investigation and piecing together, through much research and multiple resources, information that has lead to very accurate aerial depictions of the pristine, remote locations that doomsday cult leaders claimed were to be places of paradise: Jonestown and Waco – idyllic settings now embedded in our consciousness by these tragic events.
Douglas Walker's highly imaginative, technically unique artwork streams from his mind through an amalgamation of conscious and subconscious events.  Images from his childhood:  his father avidly gardening, watching a great deal of black and white TV, various children's books, landscapes by J.M. Turner, skyscraper drawings by Hugh Ferriss, old National Geographic magazines, are just a few of the many inspirations he names that have influenced his monochromatic, blueprint-like, fluid paintings of floral and fauna and gothic-like architecture and their finials.  His works confound with their strange, surrealistic beauty, creating as much mystery as satisfaction.
A ghostly quality shrouds the work of Matthew Woodward's large-scale drawings. Emanating from foggy, highly worked graphite powder are tightly rendered architectural details – finials – that drew  Woodward's attention as he walked past historical buildings in New York and Chicago. Luring in their  flourishing beauty, confrontational in both their directness and stature as the decoration adorning gateways to Gothic structures now obsolete, they resonate of bygone eras, of transience and permanence, of the transformational aspects of our cities and the illusion  and allusions to wealth.
Judy Natal employs the photographic media to depict poignant, poetic, enigmatic real-life scenarios that convincingly pronounce the dichotomies of man versus nature, progress versus regression, the natural versus the artificial a nd the hybrid systems that have resulted from these complex relationships. As a recipient of many research fellowships, grants and residencies, Natal has gained access to incredibly surreal locations in order to document unusual environments that exemplify man's interferences with nature.  The Biosphere in Arizona and the geothermal plants in Iceland have lent themselves to both reveal these ongoing struggles and the ever more crucial need to balance the issues of sustainability and protection of our natural resources as we continue to advance science, technology and our future.
Project Space: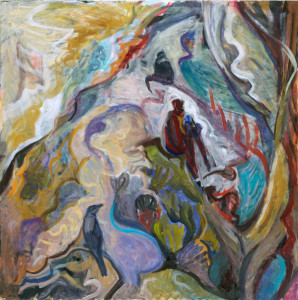 "Somewhere, Elsewhere" continues in the Project Space with allegorical paintings by William Eckhardt Kohler.  Kohler received his MFA from the School of the  Art institute in 1987 and has since been creating works that reflect his strong commitment and investment in spiritual and formal painterly concerns. Highly adroit works, layered both formally and figuratively, provide gateways into spaces that often feel like dreamscapes – furtive and mystical yet compelling and satisfying.
In the order discussed above –
Shay Kun received his BFA from Bezalel Academy of Art in Jerusalem in 1998 and his MFA in 2000 at Goldsmiths College in London. He has extensively exhibited throughout the United States, as well as overseas, including London, France, Scotland, Brazil and the Venice Biennale. He is represented by Buia Gallery in New York City, where he lives and works. Zach Taylor received his BFA in 2000 from the School of the Art Institute of Chicago. He has exhibited both in the United States and abroad and has appeared in several exhibits at the Linda Warren Gallery, including a successful solo show in 2007. He currently lives in Los Angeles. Chicago artist Joseph Noderer received his MFA in painting from the School of the Art Institute of Chicago in 2006. His first solo exhibit at Linda Warren Gallery was in 2008 and his upcoming solo show here will be in May of 2009. His work is in many prestigious private collections as well as a recent acquisition by the Nerman Museum of Contemporary Art in Kansas. Nina Rizzo received her MFA in 2004 form the University of Texas at Austin.  She is an Asst. Professor in the School of Art at Northern Illinois University in Dekalb. She has exhibited extensively throughout the United States and Europe and has been the recipient of numerous grants, awards and residencies. Eric Esper received his BFA in illustration in 1995 from Northern Michigan University. This marks his first time showing at the gallery. He lives and works in Chicago.
Douglas Walker received his art degree from the Ontario College of Art in 1981. Since then he has been working in all media, including photography, sculpture and photo-drawing. He has exhibited extensively throughout Canada as well as the ICA in London and the Dia Foundation in New York. His work is included in many important public and private collections, most notably the Art Gallery of Ontario, Mendel Art Gallery and the Canadian Museum of Contemporary Photography.  He has received awards from the Canada Council for the Arts, the Ontario Art Council and the Toronto Arts Council. He is currently represented by the Jennifer Kostuik Gallery in Vancouver and the Nicholas Metivier Gallery in Toronto, where he lives and works. Matthew Woodward received his BFA from the School of the Art Institute of Chicago in 2005 and his MFA from the New York Academy of Art in 2007.  He has been the recipient of honors and awards, has shown in the Drawing Center of New York's viewing registry and is in the collection of the Museum of Modern Art in New York as well. He recently returned to Chicago where he lives and works.  Judy Natal is a Professor of Photography at Columbia College Chicago. She received her MFA in Photography from the Rochester Institute of Technology in 1978 and has since exhibited and lectured extensively throughout the United States and Europe.  She has received numerous grants and awards, including a Fulbright Travel Fellowship.  There are several publications of her work and it can be found in many private and museum collections including the Museum of Contemporary Art in Chicago, the International Museum of Photography at the George Eastman House in Rochester, New York and the California Museum of Photography, amongst many others.