Species: recent works by artists Lora Fosberg, Adam Kurtzman, Brenda Moore, Marischa Slusarski, Jon Waldo, and Dan Witz.
Opening reception: Saturday, September 11, 2004 from 6:00 – 9:00 pm
Exhibition runs through October 30th, 2004
The presence of animal imagery in this exhibition is the most obvious common denominator; however one may find parallels between these artists' work much like one may find parallels between the animals appearing in this show and us. Despite the different forms, mediums, styles and intents of each artist, many aspects of their work are also similar. Are these similarities and differences themselves, reflective of our own species? The animals may raise more questions than provide answers, but the viewer will be made aware of their continued historical importance in our culture. As icons, as pets, as metaphors for communication, as a means to understanding ourselves, animals carry many roles and their significance cannot be understated. Issues of differentiation and similarity, existence and extinction, mysterious narratives, complex behaviors, fictions, realities, sentiments and the unknown are explored and addressed.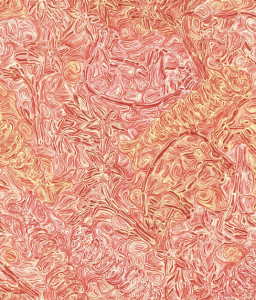 Lora Fosberg's lines of thought and memories translate into literal lines – lusciously free and graceful. They piece together as mixed-media constructs somewhat resembling a patchwork quilt with maternal, soothing and feminine patterns. Sometimes the pieces are simply patches/vignettes linked together by a suggestion of common narrative but hung separately in installation format. Either structure lends itself to containing myriad emotions from moments of the everyday, streams of consciousness, confusion, simple boredom and narratives suggesting connection and disconnection – themes that are meant to be universally relatable to all but especially the common man. The animals that appear in these works become emotional icons for events and memories that transcend a given moment and give credence to the notion that inherently various species possess symbolic meanings of their own.
Adam Kurtzman, sculptor of the odd and misshapen, graces this shows with Manatee– the rare part-human part-manatee part-chicken looking bare breasted figure that surrealistically conveys the evolutionary improbable, though not impossible, possibility of cross species interbreeding. A possibly humorous foreshadowing of scientific and environmental dysfunction?
Brenda Moore utilizes embroidery and stitch combined with digital and monoprinting processes on either canvas, or a variety of other fabrics, in addition to carving and inlaying encaustic low reliefs. She explores such different mediums in order to discover why she is drawn to certain themes. Part of this research inspired her to go back to her childhood storybooks. In doing so, the artist remembered that the stories mainly involve animals. This research has led the artist to recognize the meaning behind her choice of both past and present themes, as well as their significance. Species presents a great body of Moore's more recent work, also including pieces from various collections of prior bodies entitled Tails and Tales.
Jon Waldo, a well-known New Yorker, and ex-punk rocker who rose to celebrity status in the '80's music scene, is now creating exciting works that evolve from his earlier Word Paintings (which utilized only the written or spoken languages of its time). In the new work, referred to as Red Paintings, Waldo lets his love and respect for American folk art and its craftsmanship mix with his music background. He uses imagery that "swirl and buck up against each other in churning, random rhythms, filling a canvas's pictorial space with the wild abandon of goodies cascading from a just ruptured piñata ".
Created with handmade stencils, picture symbols of houses, cars, boats, dogs, cannons, cows, pigs, baby dolls and seemingly other random pop imagery, images are oozed into the canvas with and alla prima technique. Thick, low-relief colored lines are created with experiments using encaustic. These works beg the viewer to move about in a game of hide and seek, question the interconnectedness vs. the randomness, the hint of ever effectively reproducing, in today's mass producing digital age of art, their significance. An evolutionary idea for nonextinction
Marischa Slusarski's oil paintings of surrealistic animal beings, painted fresco-style with rich glazed storybook qualities, decidedly forces one face first and forward into the gaze of her benevolent beasts. Slusarski's newest work lures one into their world—this fictitious, bizarrely beautiful world of multi-headed creatures, gracious, inviting and odd. Who is looking at whom? The observer may feel awkward or ashamed as her figures "seek and accusatory eye contact with the viewer, indicting him/her as the Zookeeper, the Collector and the Hunter". Her goal is " to create a world where the mystical nature of animals is hyper accentuated in order to remind the viewer that the essence of the non-human cannot be understood or measured by man".
Dan Witz has been using animals as protagonists in his compositional dramas since he first started painting. Besides being willing (if sometimes elusive) models he enjoys their attitude, or lack of—they are uncomplicated in a narrative sense and easily adaptable to whatever dynamics of picture making he's looking to exploit. "The Pigeon Towers", made directly after the World Trade Center tragedy, painted in his studio a half mile from ground zero, allowed him, through a simple cinematic cliche, to freeze that moment on September 11th, to feel it again and again fully winged, taking flight.
"The soul…when perfect and fully winged, soars upward;" taking flight." Plato
There is more extensive information about each artist on the gallery's website: www.lindawarrengallery.com including images, résumé, and artist statement.
A portion of the exhibition proceeds goes to support Animal Assistance Fund, a not-for-profit public charity to benefit no-kill animal shelters throughout the city of Chicago. In conjunction with Chicago Cultural Center's October's Chicago Artists Month 2004 there will be two discussions by Chicago artists Lora Fosberg and Brenda Moore on October 9 and 23 between noon and 3:00 pm.