Stephen Lacy, Zach Taylor, Jonathan Waterbury: New Works
Opens June 3rd thru July 16th, 2005
Reception for the artists: Friday, June 3rd 6-9pm
Linda Warren Gallery is proud to announce the opening of Steve Lacy, Zach Taylor and Jonathan Waterbury: New Work. Observable in each of these three uniquely talented artists work is a common tactic used by many contemporary artists¬–appropriation–taking and re-presenting or recontextualizing original imagery. Whether or not the image is recognizable or may in fact be stored in the viewer's memory with preexisting associations is not necessary for the works to communicate. Some are purposefully obscure and only personally valued; though the notion of value (what means something to them, and anything to us, is often being evaluated and challenged). Through sculpture, wall relief, paint, pencil, digital imagery, mechanical and technological color manipulation visual forms are manifested that grapple with the meaning of how we contextualize our identity and form relationships with and to the images that we stumble upon or are bombarded with as we live our lives.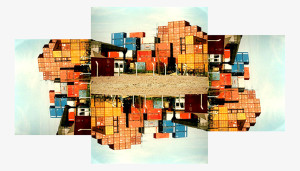 In Steve Lacy's work, which he titles "Homemade Liberty: Tyranny and Mutation", the artist gives us visual art to continue to explore with him his interest in "what happens when two or more disparate things come together for the first time." Using text and image together, Lacy creates historical, social or formal juxtapositions. He believes it is from "initial meetings", happening in "real" locations, that moments of self-recognition occur "where we are called upon to use our cognition to place ourselves in the situation at hand" and optimally rally an active response and instigate "one speedy little moment of challenge and truth." The series of images presented in the gallery are an abstraction of the phenomenology of liberty.
Zach Taylor's newest works are about collections, dreams and value. He believes in "vinyl bucket seats and bourbon, supermarkets and diamond dust, Made in China, Made in Indonesia, Made in Malaysia, Made in Spain…Made it to the Moon…souvenirs and television, frontiers and franchises, space exploration, tacos, Cadillacs, Surf City, steamed rice and gummi worms." He believes in taking objects, images and ideas and making them his own. By investigating and replicating objects and images which he has collected throughout his life, he confronts himself and the viewer with the pursuit of finding their value.
Jonathan Waterbury continues to employ text, image and sculpture to create works that communicate "itinerant notions about contemporary and historical human existence." Waterbury gathers information, processes images and recontextualizes them into work with such strong aesthetic value that our attention is refocused and opened to contemplating an array of new ideas loaded with more meaning. In minimalist sculptures carefully constructed from various types of plywood, complex identities are reinvented and affirmed by the repetition of a formal and structural choice: to create sculptures as strictly cubic volume first. Each piece then engages the viewer in its immediate environs with real-time interaction that can involve visualizing math, scale relationships and the structural components that relate the imagined to the real. Similarly, his visually compelling digital works utilizing conventionally known data, symbols and representational forms that might otherwise be known in perhaps one single context, are transformed and lend a way to new thought.
Steve Lacy received his MA. in sculpture at Ball State University in 1997 and his MFA in performance at The School of the Art Institute of Chicago in 2000. He has been working and exhibiting collaboratively for the last ten years with various groups, including Academy Records where he showed amongst other places at the Museum of Contemporary Art in their series 12 X 12: New Artists/New Works. He has been the recipient of many grants and awards. Zach Taylor received his BFA from The School of the Art Institute of Chicago in 2000. He has shown in venues throughout the Midwest and East Coast. This will mark his second exhibition at the gallery. Jonathan Waterbury attended The School of the Art Institute in Chicago as well, receiving a BFA in 1985 and an MFA in 1987. His works have been seen in numerous gallery and museum exhibitions in Chicago and elsewhere over the years, and this is the first commercial showing of new work in over ten years. His studio is in Winston Salem North Carolina.