"Unseriously Serious": Chris Cosnowski, Davis & Davis, David Dufault, Paula Henderson, Nick van Woert, Jeff Zimmerman
Project Space: Davis & Davis, Small Talents
November 30th – January 5th, 2007-2008
Artist Reception: Friday, November 30th, 6-9 pm
Linda Warren Gallery is pleased to announce the opening of "Unseriously Serious" featuring the work of seven no-nonsense artists from across the country: Chris Cosnowski, Davis & Davis, David Dufault, Paula Henderson, Nick van Woert and Jeff Zimmerman.  In a seemingly friendly, lighthearted and innocuous fashion these artists employ humor and wit, in a sense, the pleasure principle, to redeploy inoffensive and banal subject matter, imagery and objects into formal works that bequest and deserve more contemplation.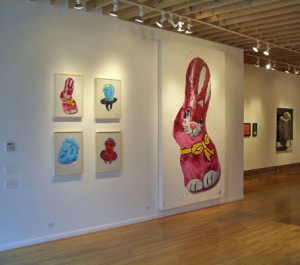 Chicago-based artist Chris Cosnowski paints hyper-realistic still lifes by strategically staging plastic toys and figurines into complex and generally ironic narrative situations. In "POW", Cosnowski focuses his obsessive and meticulous painting abilities on the components of a plastic army model kit for the construction of a military tank and soldier.   Not a laughing matter today, this maze-like, complicated looking piece of plastic formally alludes to the current Middle East quagmire, the basic dehumanization of our "ready-made" soldiers and the wonderful military gear they are provided (NOT!)
Plastic toys come to life and the bitter truths of our existence go down like sweet candy in the hilarious scenarios designed by Los Angeles based artists Davis & Davis.  From religion to science, to politics (as in "Duty Boys", where doodie humor is actually elevated to an earnest notion -remember these babies, for crying out loud, are our nation's soldiers, I mean, children… or at least our nation's children's toys) to social mores to the intricacies of human psychology to family function and dysfunction – all the world's dramas are explored and played out on exquisitely set designed, choreographed and photographed doll-house like stages by a diverse cast of crazy looking dolls.
Plastic beach tools become the metaphoric surrogate for Hollywood royalty in Paula Henderson's newest set of drawings. Rakes, buckets, watering cans and shovels run pleasantly amok on the paper (instead of the beaches from where they were found).  Bold color splashes and drips applied with little attention to the lines and forms of the nearly concealed objects of focus all serve as metaphors for a much more serious topic:  celebrity power– how we treat it, fixate on it, use it and misuse it, abuse it and dispose of it, many times in a flash, as is portrayed in the piece "Colorfast".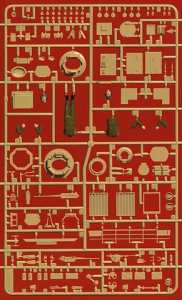 But that is the signature of our "toss it, change it" culture, which New York based sculptor Nick van Woert addresses in some of his work on display – the "Dipstick" and  "Pile" series.  In the latter, van Woert creates totem-like structures comprised of the junk that accrues from our frenetic pace of buying and disposing. In the former, plastic figurines naturally develop into colorful stalagmite looking forms through a process of gravity, dipping, and chance. Human identity, though almost completely obliterated by the paint, maintains a proud, though blinded stance.
In matter-of-fact, punctilious paintings David Dufault pokes fun at some Chicagoans' very, very serious sources of pride: our fabulous food and the charming CTA metro line. Using a self-devised rule to change only one letter (if need be –two) or add one word, Dufault reworks the iconic metro stop signs to combine both of these passions into graphic new symbols, converting such destinations as "Southport" to "Southpork",  "Damen" to  "Ramen", "Lake" to "Cake" – to just name a few of the 53 he has in store.
Chicago artist/muralist Jeff Zimmerman takes some store bought items to a whole new level in his painting of an innocent chocolate Easter bunny… at 10 feet tall.  This normally delightful pink icon of our Wal-Mart and Hallmark holiday culture is transformed by its enormous scale and the artist's vivid and exciting use of paint to represent something menacing and all empowering. Zimmerman's treatment of this insipid symbol of a significant religious event becomes a spectacular representation of an illusion, consuming more strength than the consumer of it.  Tied in a yellow "remembering our soldiers" bow, this honkin' bunny screams to be recognized for what it is…and what it is not.
IN THE PROJECT SPACE:  More of Davis & Davis' photographic dramas—"Small Talents". In this series, found dolls are photographed as would-be talent show contestants seen at the beginning, middle or end of their performance. The viewer becomes the audience for and judge of each contestant's talent, asking him- or herself, has the performance finished (or even begun), does the performance rise to the level of talent, and finally, what is the talent in question?
Chris Cosnowski received his MFA from Northwestern University in 2000 and currently teaches full-time at the American Academy of Art. Davis & Davis are both art/photo graduates of the California Institute of the Arts and have been collaborating for more than a decade. They have had many noteworthy international shows, most recently at the Chelsea Art Museum and PAN Palazzo delle Arti Napoli, Naples, Italy. David Dufault graduated from the School of the Art Institute of Chicago in 1997 and has been consistently showing his work since. Paula Henderson, a University of Chicago MFA, has some of her work on display at the Museum of Contemporary Art Chicago concurrently with this show—"Mapping the Self", November 3, 2007 – March 2, 2008.  Her work will also be featured in a UBS 12 x 12: New Artists/New Work' show at the MCA Chicago this January. Nick van Woert recently received his MFA from Parsons School for Design in New York City and currently lives and works in Brooklyn, NY.  He received a 2006 Outstanding Sculptor Award from the International Sculpture Center. Jeff Zimmerman is a well-known muralist throughout Chicago and the world, and received his BFA from the University of Illinois at Urbana-Champaign