Zach Taylor- New Work
Project Space: John Welter, New Paintings
October 19th – November 24th, 2007
Opening Reception: Friday, October 19th, 6-9pm
We are pleased to present in Zach Taylor's first solo exhibition at the gallery an infinite variety of visual languages, comprised of drawings, paintings, sculpture, collage, cut-outs using a polish paper-cutting technique called Wycinanki, installation, permutations of the above, and by the time the show opens, perhaps video.  Mentioning this still unknown media variable addresses Taylor's spontaneous, obsessive, and near pathological need to communicate his ideas in the medium best suited to express them as they arise and make use of the range of skills he possesses.
Mass consumerism and pop culture, including mass-media consumption, are constantly investigated and redeployed throughout the series from the vantage point of a very American male artist deeply concerned with the American way.   In 'Something Useful," Taylor purchased an array of plastic toys from the "Dollar Store" that, to the average buyer, have no underlying significance other than their utilitarian function. But by recombining and adjoining them using foam insulation into a piece of sculpture, the viewer's focus is redirected to more complex signifiers, changing in this process their value (we hope) as well as the likelihood that they won't ultimately end up in the junkyard (we hope).
Individually, and as a whole, the cacophony of visual stimulation presented is both calculated and accidental. Relying much on the methodology of appropriation, the emotions of the moment, and Taylor's personal discourse with his own background and reality, is a keen awareness of the macrocosmic happenings around him.  Throughout the oeuvre, objects and ideas are recycled, reconfigured and customized to achieve a new significance, meaning and value. The "stuff" of his own life, imbued already with great personal import, as in the Eames chair given to him as a gift in high school by his mother, is reused as a component of a larger piece, the sculpture "Thoreau", attaining in the remix an even greater consideration.   Or as in the installation, "The Spirit " where Taylor's lifelong passion for cars and his relationship with them are poignantly displayed in the center of the gallery, using the hood of an actual Corvette to build a shelter – metaphorically and literally.
Taylor's work deals with the trivial, the banal, the mundane, the obscure, the crap that our lives are comprised of as much as the vast emotion we as humans deal with every day in all their dualities and contradictions: feelings of hope and despair, confusion and clarity, disappointment and satisfaction, peace and war, patriotism and shame, calm and chaos, love and attraction, disgust and disdain – to name just a few.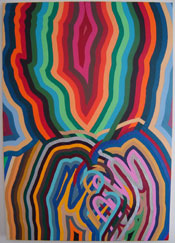 The desire to make sense of the chaotic sensory overload is best observed in Taylor's large – scale canvases "Portrait", "Still Life" and "Nothing Going On."  Inhabiting the ever-blurred border between high art and pop, these pieces can easily be read as visual diaries and journals.  Expressionistic, surrealistic, representational and at times abstract, they are extremely personal and idiosyncratic at their core. Taylor has worked repeatedly and intermittently on each piece for nearly a year.  As they morph and change with each new layer of paint, idea, image, material and emotion, a world gets exposed that upon deeper inspection reflects realities much like our own.
Zach Taylor was born in Indiana in 1975 and received his BFA from the School of the Art Institute of Chicago in 2000.  His work has been shown in galleries both here and abroad and is in many noteworthy collections as well.  He has appeared in several group exhibitions at the gallery since its inception.  He now lives and works in Los Angeles.
In the project space we are proud to exhibit formally striking, color-explosive new paintings by artist John Welter, a fellow student and friend of Taylor at the School of the Art Institute of Chicago.